Kate Scheer from W&H discusses the effects of norovirus on your practice
It looks so harmless doesn't it? A colourful virus. But you need to protect against it. The winter season brings with it a surge in illnesses, including the now infamous winter vomiting bug – norovirus. Making sure your procedures minimise the risk of cross-contamination is not just a clinical requirement, it also serves to protect your patients and team.
Norovirus is exceptionally virulent, capable of infecting people from miniscule amounts of faecal matter. It requires less than 20 virus particles to infect someone and can spread easily through air, water, food and physical contact.
Those infected can remain contagious for over three weeks and around 20% never exhibit symptoms, making them unlikely to take steps to prevent infecting others [1]. There are currently no treatments available to fight norovirus, beyond staying hydrated.
For many, norovirus makes for an unpleasant few days but passes without serious or long-lasting consequences. However, for vulnerable groups such as children and the elderly, it can be more serious. Norovirus infection can exacerbate other illnesses, interrupt treatment and worsen the prognosis for patients with conditions such as cardiovascular disease or cancer [2,3]. ,
Between July 2013 and June 2014, there were 610 recorded norovirus outbreaks in UK hospitals, of these 94% precipitated ward closures [4]. The vulnerability of elderly patients may be of particular note for dental practitioners as oral health has been established as an indicator of overall health, with worse oral conditions being associated with many common comorbidities, such as cardiovascular disease and diabetes [5,6].
While those recently infected should be advised to postpone treatment, asymptomatic individuals can still be infectious. You won't always know when someone is a risk. It is also worth noting that alcohol-based hand wash gel is ineffective against the virus, its use might promote a false sense of security [7].
The fight against infection
Decontamination of dental instruments is essential in preventing the transfer of harmful microorganisms between patients. As HTM 01-05 outlines, this entails thorough cleaning, thermal disinfection (where possible), rinsing, drying, inspection, efficient lubrication (ideally using an automated handpiece maintenance system), sterilisation, wrapping (this can come earlier in the process if using a vacuum steriliser) and storage. The use of thermo-washer disinfectors is considered to be best practice.
If you want to improve the efficiency and effectiveness of your decontamination procedures, W&H offers a complete range of solutions, and can arm your team with comprehensive knowledge on handpiece care and maintenance with its new validated ECPD training programme.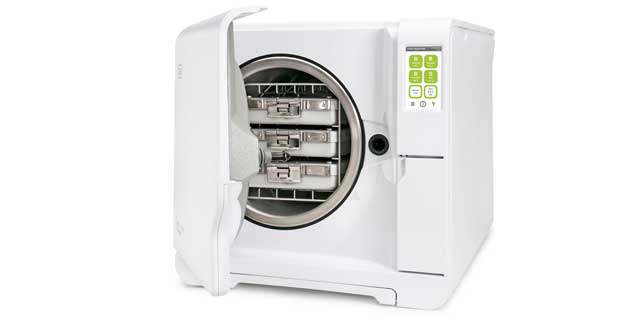 The fight against infection can benefit from the efficient handpiece maintenance technology of the Assistina TWIN, as well as the cleaning power of the ThermoKlenz washer disinfector. The dental team can also take advantage of the new Lisa type B steriliser (above) which has been optimised for a reduced cycle time and higher throughput of instruments.
By sticking to strict decontamination procedures and using high-quality instruments and equipment you can protect not just against norovirus, but all manner of microbial pathogens. This will help ensure the safety of your patients and your team and minimise staff sickness, which, ultimately, helps maintain the smooth operation of your practice all year round.
To find out more about decontamination systems from W&H, visit www.wh.com/en_uk, call 01727 874990 or email This email address is being protected from spambots. You need JavaScript enabled to view it.
References:
1] Moe C. Preventing norovirus transmission: how should we handle food handlers? Clinical Infectious Diseases. 2009; 48(1): 38-40. Available at https://academic.oup.com/cid/article/48/1/38/290232 Accessed August 16, 2018.
2] Mattner F., Sohr D., Heim A., Gastmeier P., Vennema H., Koopmans M. Risk groups for clinical complications of norovirus infections: an outbreak investigation. Clinical Microbiology and Infection. 2005; 12(1), 69-74. Available at https://onlinelibrary.wiley.com/doi/full/10.1111/j.1469-0691.2005.01299.x Accessed August 16, 2018.
3] Schwartz S., Vergoulidou M., Schreier E., Loddenkemper C., Reinwald M., Schmidt-Hieber M., Flegel W., Thiel E., Schneider T. Norovirus gastroenteritis causes severe and lethal complications after chemotherapy and hematopoietic stem cell transplantation. Blood. 2011; 117: 5850-5856. Available at http://www.bloodjournal.org/content/117/22/5850 Accessed August 16, 2018.
4] Public Health England. Hospitals already seeing outbreaks of norovirus causing ward closures warns Public Health England. Gov.uk. 2014. Click HERE. Accessed August 16, 2018.
5] Kane S. The effects of oral health on systemic health. General Dentistry. 2017; 65(6): 30-34. Available at https://www.ncbi.nlm.nih.gov/pubmed/29099363 Accessed August 16, 2018.
6] Chróinín D., Montalto A., Jahromi S., Ingham N., Beveridge A., Foltyn P. Oral health status is associated with common medical comorbidities in older hospital inpatients. Journal of the American Geriatrics Society. 2016; 64(8): 1696-1700. Available at https://onlinelibrary.wiley.com/doi/abs/10.1111/jgs.14247 Accessed August 16, 2018.
7] Vogel L. Hand sanitizers may increase norovirus risk. Canadian Medical Association Journal. 2011; 183(12): e799-800. Available at https://www.ncbi.nlm.nih.gov/pmc/articles/PMC3168661/ Accessed August 16, 2018.