Tufts University Study: Wear comparison of twelve manual toothbrushes finds classic design the best
Which manual toothbrush lasts longest and provides best hygiene results? Might it be the latest ergonomic, algorithmically designed, angled brush head with mathematically precise bristles? Or is the traditional flat-headed brush the older generation remember from their youth? Recent finding may surprise you. Power brush users can look away now, but manual brush users should read on.
A research study presented by the Tufts University School of Dental Medicine International Association for Dental Research Conference, reports the surprising finding that the older version is more effective for longer than current products.
Their study, "Wear Comparison of Twelve Manual Toothbrushes," shows that the Sound Feelings brand with an old-fashioned "flat-style" bristle had the least amount of wear compared to other brands.
In this study, 11 commercial brushes were compared to the 'Sound Feelings Soft Plain Toothbrush', which had been based around the classic Dr R W Hutson patented toothbrush design filed 23rd August 1955 (above). The results showed that the Sound Feelings brush had the lowest wear among the eleven types of commercial toothbrushes tested.
Plain, flat bristle toothbrushes were found to have less wear than zig-zag bristles, polishing cusp bristles, multilevel bristles, soft flat bristles, circular power bristles, pro-flex bristles, tapered charcoal-infused polyester bristles, multi-tufted/varying stiffness bristles, fine-tapered multilevel bristles, bi-level bristles, and stain erasing cups with spiral bristles.
Researchers reported that each group of commercial brushes were: "Significantly different from the Sound Feelings Soft Plain Toothbrush. This supports the findings that complex commercial toothbrushes have the same, or more, wear than plain toothbrushes, with brushing technique/pattern, pressure, duration and external factors held constant.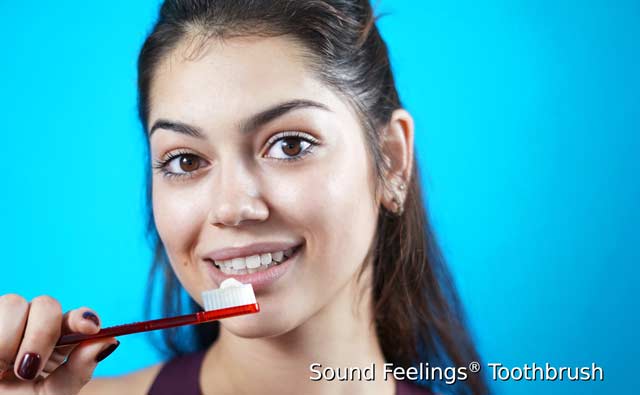 "This could be because the compact same-length bristles of the flat cut brush head tend to support each other under stress and prevent splaying. Although there are not many other studies done similar to this, the results coincide with Rawls et al. (1989) that tested wear index and wear rating of groups of four different toothbrushes that had considerable design differences."
The Rawls study found that there was a significant difference between the different brush heads after simulating four weeks of use [1] which supports the results found in the Tuft Univesity study which showed a significant difference in wear between the eleven toothbrushes tested and the plain 'classic' toothbrush.
The researchers continued: "Knowledge obtained from this study can be applied to the dental field for manual toothbrush users. Many patients, especially those in the elderly population, may prefer manual brushes over electric toothbrushes due to oral hygiene habits they have followed for years, with some citing better control of the brush and/or no vibration "tickling" their gums" [2]
A spokesperson for Sound Feelings said: "Thanks to this study, dental providers can educate patients on which manual toothbrush would be the most cost-effective. It would also help explain which brush would be of high quality and longer-lasting, so that it would not wear or 'splay' before the recommended four-month replacement time.
"With greater toothbrush wear, there is a decrease in the amount of plaque removal, which causes the toothbrushes to be less effective. A decrease in toothbrush effectiveness means the patient is more likely to suffer from caries and periodontal disease, prevention of which is the dental professions' primary goal. [3]
"The oral healthcare team are now able to advise their patients that there is no difference in toothbrush wear between the latest toothbrush designs – with varying bristle material and/or head angulation – and a simple, flat bristle toothbrush, so long as they are brushing at least twice a day for two minutes, have the proper technique (Bass Method) and do not apply excess pressure." [4]
Tuft University researchers reported that limitations for this study were minimal, but since the same two dental students were cutting the toothbrushes (to fit in the simulator), running the brushes through the simulation, doing the wear ratings and wear index measurements, there might have been "unintended, unconscious bias".
However, each toothbrush was assigned a number, or group, and after initial assignment, the names of the toothbrushes were never used again. There was no gain for either student to favour one toothbrush over another.
The researchers added: "For future experiments, it would be helpful to have two dental providers/students who are calibrated and not involved in doing anything with the toothbrushes, other than wear ratings and measuring wear index to prevent any sort of bias.
"In addition, the use of the simulator and quadrant typodont in vitro may not mimic the brushing process of a real person completely. Therefore, with regard to wear, a clinical study is necessary to conclusively prove the superior performance of the Sound Feelings Soft Plain Toothbrush compared to other, more complex toothbrushes."
Conclusions:
The study concluded that the Sound Feelings Soft Plain Toothbrush had the lowest wear index and rating among the twelve commercial toothbrushes tested.
Sound Feelings founder Howard B Richman added: ""The independent Tufts University School of Dental Medicine study was in-part funded by my company Sound Feelings. It is a 'wear' study of soft toothbrushes, which are normally 7ml nylon filaments, though some of the brands had slight variations of this.
"In seeking for a brush that would work with my sensitive gums I had re-created the classic model. The study reported that the Sound Feelings toothbrush, with tightly-packed, flat-style filaments butting up against each other as in Dr Hutson's 1958 original design, fared the best by wearing out the least."
To read the full study, click HERE
For more information about the Sound Feelings range, visit https://www.plain-toothbrush.com/ or www.amazon.com
References:
1] Rawls, H. R., Mkwayi-Tulloch, N. J., Casella, R. & Cosgrove, R. (1989). The Measurement of Toothbrush Wear. Journal of Dental Research, 68, 1781-1785.
2] Petker, W., Weik, U., Margraf-Stiksrud, J. & Deinzer, R. (2019). Oral cleanliness in daily users of powered vs. manual toothbrushes- a cross-sectional study. BMC Oral Health, 19(96).
3] Van Leeuwen, M., Van der Weijden, G. A., Slot, D. E. & Rosema, M. (2018). Toothbrush Wear in Relation to Tooth Brushing Effectiveness. International Journal of Dental Hygiene, 17(1)
4] Mazhari, F., Boskabady, M., Moeintaghavi, A. & Habibi A. (2018). The effect of toothbrushing and flossing sequence on interdental plaque reduction and fluoride retention: A randomized controlled clinical trial. J Periodontol., 89(7), 824-832.