BACD President Paul Abrahams explains why smile makeovers can be life changing, life enhancing, and a showcase for your skills
Cosmetic dentistry can change lives. If a patient leaves the practice looking like a better version of themselves, they will feel like a better version of themselves. Facing the world with a beautiful smile boosts mental health and wellbeing. This is the true power of a smile makeover; self-confidence, self-esteem and social relationships can be completely transformed.
Consider the amount of time we spend looking at ourselves on a screen. During every Zoom meeting a number of people are distracted by something about their smile that really bothers them, and the number of retouching apps indicates how important it is for people to look good in selfies. A survey found that 45% of adolescent girls admitted used a retouching app or filter to improve their appearance when posting on social media [1].
Today's patient is more likely to show you a selfie and point out what they'd like improving, rather than the celebrity smile they want you to emulate. They can be clear about what they don't want, too. For most, the result must look natural, as well as beautiful, so people tell them, "You look amazing! But what's different about you?" Obtrusive treatment that does not "fit" the face is no longer required, natural rules in the cosmetic world.
Smile makeovers are a showcase for a dentist's skills, expertise and knowledge. A smile makeover combines technical expertise with artistry. Successful, enduring outcomes only happen when the dentist matches aesthetic results with functional solutions, and they rely on intelligent planning, which is why smile design becomes an essential factor in the patient's cosmetic journey.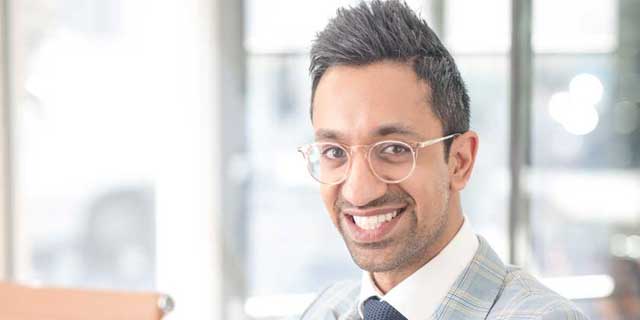 Dr Sam Jethwa
Virtual smile simulations help make treatments predictable and simplify informed consent. Patients might not be aware of how easily and ethically a life-changing result can be achieved using the latest techniques and technology.
Whether the treatment plan involves just one, or a combination of minimally invasive procedures, today's smile makeover means a naturally enhanced appearance delivered efficiently with minimal prep and the least removal of healthy tooth structure.
With smile design, you can encourage positive communication, manage patient expectations and add value to their overall experience. You can discuss how their teeth must still function effectively for years to come, so you must factor in things such as treatment for tooth wear on occlusal surfaces. If the desired solution can be achieved with just whitening, this is what should be recommended. Equally, you might explain how several, more complex treatments, might be required to create the smile of their dreams.
A great cosmetic dentist will consider each case and tailor the treatment to what is appropriate, ethical, and correct. The "perfect" smile is individual and unique to the patient's face. To elevate your cosmetic practice, and learn more about smile design, consider joining the BACD, an inclusive community of professionals committed to maintaining and raising standards of clinical excellence.
We pride ourselves on offering safe and ethical smile makeovers that are beautiful, functional and long-lasting. The BACD website offers members access to quality learning, including an insightful webinar on smile design, presented by Dr Sam Jethwa (above). BACD membership can help you discover better ways to balance effective dental function with beautifully aesthetic outcomes.

Author:
Paul Abrahams is the current President of the BACD. For more information about BACD membership, visit www.bacd.com
References
1] Girl Guides: Enhanced photos need labels on social media. BBC News online, 2 September 2020. Link: https://www.bbc.co.uk/news/technology-54003536 (accessed November 2020).