Dentist, Rhona Eskander, presents an IAS orthodontic solution for patients presenting with an oronasal fistula
In minimally invasive anterior alignment cases, treatment is typically carried out on patients with minor to moderate misalignment and straightforward cosmetic complaints. In this case the use of a removable appliance was much more than an aesthetic correction; it served as an ideal solution.
Patient complaint and medical history
The patient, a young male, presented to the practice for a routine appointment to discuss undergoing orthodontic treatment. However, because of the patient's medical history it was not a typical consultation. Several years previously, the patient had been diagnosed with a tumour, which meant a hole had to be created in his palate so a cancerous growth could be removed.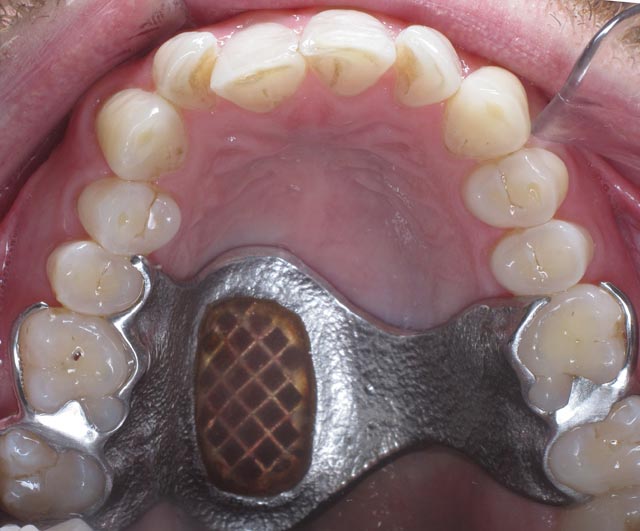 Since then, the patient has worn a palatal obturator; a prosthesis that occludes the opening and helps restore mastication, swallowing, articulation and the contour of the midface, while also preventing nasal regurgitation.
Treatment options
Despite the limited options that were available as a result of the obturator being in situ, the patient was adamant that he wanted to avoid comprehensive/fixed orthodontics unless it was absolutely necessary. During the discussion about potential treatment options, the patient was informed of the results that could be achieved with gold standard orthodontics, but he explained that he would rather use an alternative.
Consequently, systems such as Six Month Smiles and FASTBRACES were also ruled out, as were Invisalign aligners, because they would have interfered with the obturator.
In the end, after thinking outside the box and seeking guidance from noted cosmetic dentist, Dr Tif Qureshi, the patient was considered for the IAS Inman Aligner.

After using IAS Academy's Spacewize+ arch evaluation software to confirm suitability – and getting assistance from NimroDENTAL orthodontics laboratory − it was calculated that 2.5mm of progressive interproximal reduction (IPR) would be needed throughout the treatment period.
However, in order to fit the appliance correctly without compromising the obturator, it required modification so the clasps could attach onto the premolars, rather than the molars as in usual cases.
Treatment
The patient was shown how to insert and remove the appliance and was advised to wear it for at least 20 hours a day. During the alignment process, he attended fortnightly appointments so that we could monitor and document the movement of the upper anteriors, perform the appropriate IPR and ensure the appliance was not affecting the obturator.
In total, he had 1.5 mm IPR carried on his upper centrals and 1 mm IPR on laterals.
Once the alignment was complete, gum laser therapy was performed on UL1 to make the gingival margins appear more even and remove bacteria to reduce the risk of periodontitis.

Whitening was performed for two weeks with Philips Zoom whitening system using 16% carbamide peroxide. Following this, composite bonding was carried out on the upper anteriors to further enhance the aesthetics. A fixed upper retainer was then bonded during the last appointment to prevent relapse occurring in the future.
Outcome
Overall, the patient was very happy with the final results, especially because he had previously visited dentists who insisted he would only be eligible to receive comprehensive orthodontics.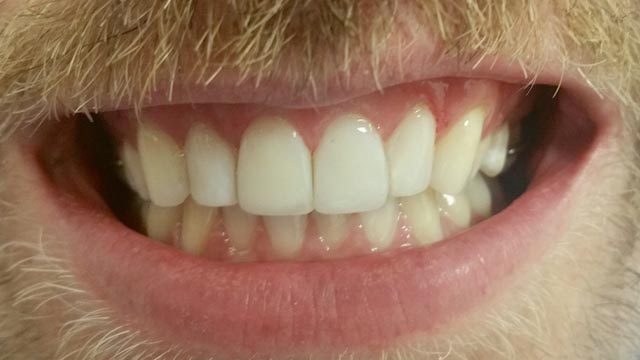 I was also pleased with the outcome and glad that I was able to offer an alternative, if not unique, solution that not only satisfied the patient, but also produced excellent results in a safe and effective way, without disrupting his palatal obturator.
However, if a similar case presented to the practice in the future, I would probably implement IAS Clear Aligners into the treatment process as well to achieve even better rotation and final tooth positioning.
IAS courses
The IAS Inman Aligner course is part of the IAS Academy pathway of training for GDPs. The course is now a continuum and two cases must be submitted and evaluated on completion for website listing.
For more information on the IAS Inman Aligner and upcoming training courses, visit www.inmanaligner.com or call 0845 366 5477
Author
Rhona works at 80 Kensington Dental Clinic. She graduated from Leeds University in 2010. During her vocational year she won the prize for the 'Best Case Presentation' – a complex restorative case that involved several disciplines in dentistry – and was shortlisted for "Best Young Dentist 2015" and for the Aesthetic Awards 2016.
Dedicated to postgraduate training she has successfully passed her MJDF examinations and completed a cosmetic and restorative certificate course under Chris Orr. She has been a certified IAS Inman Aligner provider since 2012.