Louisa Lawrence: Fixed anterior alignment using the ABB concept
A 33-year-old female patient presented with concerns about lower crowding, which was affecting her ability to clean her teeth and her smile aesthetics.
A comprehensive clinical examination was performed (Table 1), revealing a Class II Div. I incisor relationship with a reduced overbite on a Class II Skeletal Base and low FMPA. Moderate lower crowding and a thin gingival biotype were recorded, along with 2mm buccal recession on the LL1.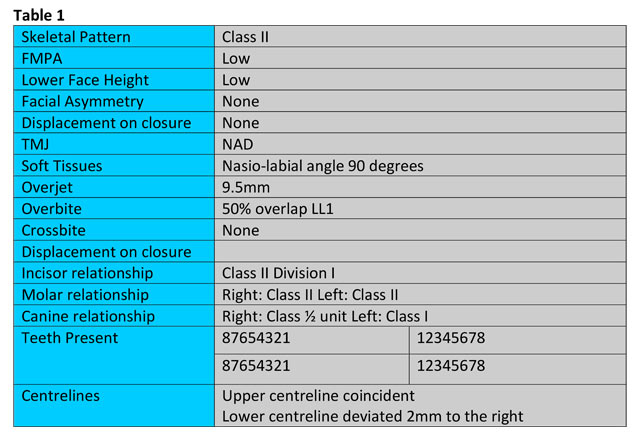 Clinical photographs and impressions were taken for the Spacewize™+ calculation, which demonstrated 2.3mm of crowding in the upper arch and 4mm of crowding in the lower. All possible treatment options were presented and discussed in detail with the patient, though the degree of crowding indicated fixed orthodontic appliances to align effectively.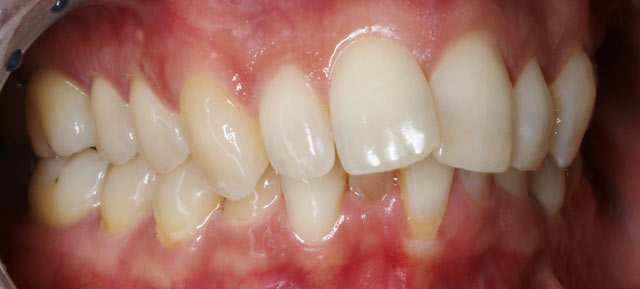 The procedure was explained to the patient, who had an opportunity to ask any questions she had to ensure her informed consent. The importance of oral hygiene throughout treatment, as well as retention following alignment, was emphasised. The ABB (Align, Bleach and Bond) concept was also presented to the patient, to ensure that we achieved the very best outcome.
Treatment
Orthodontic treatment commenced in June 2017. The patient returned to the practice roughly once a month for her progress to be reviewed, with interproximal reduction (IPR) and progressive proximal reduction (PPR) performed – and checked with the IAS gauge.
At the end of every appointment, oral hygiene and dietary advice were reinforced and fluoride varnish applied.
Case appraisal
I was very happy with how this case progressed and the patient was delighted with the result. I was surprised at how quickly the powerchain sling moved LR1 buccally, fortunately, causing no buccal recession. (The patient had been warned that this was possible due to her thin gingival biotype.)
It was great to learn how to use this and it increased my confidence in providing fixed anterior aesthetic alignment solutions for more patients.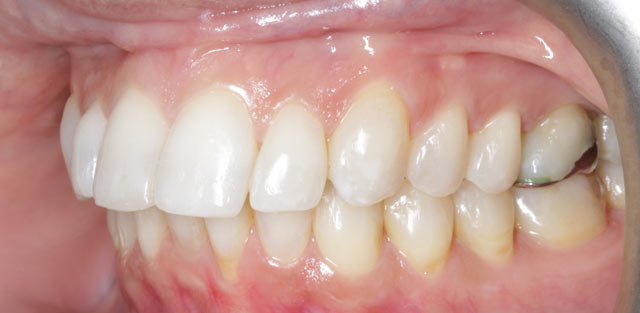 I thought that I would need two clear finishers at the end to align the LR1. However, between debonding the lower brackets and fitting the temporary Essix retainer, LR1 aligned on its own.
In hindsight, I would have liked to keep the upper brackets on for another two weeks to retract the upper centrals and laterals more. However, the patient was happy and I had been advised to debond as quickly as possible in order to reduce the risk of gingival recession given the thin biotype.
I would have also placed the composite biteguards on the palatal cusp of the upper second molars rather than the lower second molars. Finally, I hope to improve my dental photography skills in order to enhance the images for my records and marketing materials.
For more information about upcoming IAS Academy training courses, including those for the Inman Aligner and Aligner system, visit www.iasortho.com or call 01932 336470 (Press 1)
Author:
Louisa Lawrence qualified from The Turner Dental School, University of Manchester in 2001 and has worked in private practice in London for the past 13 years. She has completed extensive further training in orthodontics and cosmetic dentistry, having developed a special interest in minimally invasive techniques.