BDIA Dental Showcase from 4th to 6th October at ExCel, see you there!
The doors open at 9.30 tomorrow morning and Dental Review will be scouring the aisles for the latest innovations in the dental arena. Here's just a little taste of things we expect to see:
Speak to the experts: 3M Oral Care Stand H42
Committed to constant product development and innovation, 3M Oral Care is a leading provider of restorative, prosthodontic and orthodontic solutions.
The team will be on hand to demonstrate the latest products on the market, including the new Impregum Super Quick heavy body polyether impression material, featuring all the precision of a polyether with the speed of a VPS.
Visitors will also discover why RelyX Unicem self-adhesive resin cement is so popular among dentists, with 3M Oral Care celebrating 15 years of clinical success.
Discover the joys of BSDHT membership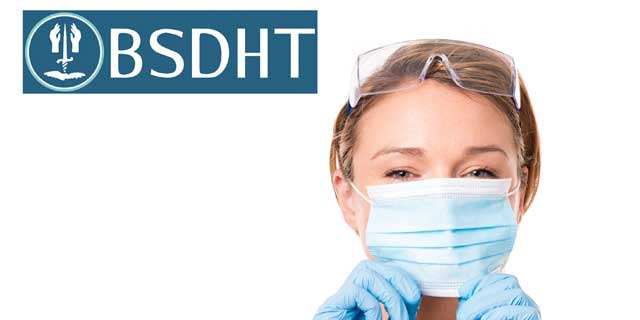 The British Society of Dental Hygiene and Therapy (BSDHT) remains committed to supporting its members and the team will be on hand to give them a chance to come and say hello and find out what's new with the organisation.
Why not drop by to get an update on the exemptions project with the BADT? Or you can come and see the latest copy of the Dental Health journal, or make sure you are making the most of all the many benefits membership brings.
If you are not yet a BSDHT member, this will be the perfect opportunity to see what they're all about and discover for yourself what membership will mean.
Prepare to be amazed by CALCIVIS on Stand B52
The science behind the innovative CALCIVIS imaging system was inspired by the bioluminescent (light emitting) mechanism that is seen in nature by marine animals, such as jellyfish – CALCIVIS applies a highly specific bioluminescent photoprotein, which in the presence of free calcium ions released from actively demineralising tooth surfaces, produces a low-level light. An integrated intraoral sensor then detects this light and displays a precise, glowing map of active demineralisation at the chair side.
The CALCIVIS imaging system is an early detection device. It enables practitioners to identify demineralisation at its earliest and most reversible stage and to plan prompt management to prevent dental caries and erosion.
Another chance to see Curaprox, Stand F50
Curaprox will once again be presenting the Be You line of toothpastes, giving you the opportunity to learn more about the exciting range that could inspire your patients and improve their oral health. The whitening toothpastes are available in six original flavours and colours, including watermelon, gin tonic and persimmon, and grapefruit and bergamot – be sure to try them all.
Curaprox will also be exhibiting the sophisticated Black is White range alongside favourites such as the CS 5460 manual toothbrushes and CPS interdental brushes, available in a variety of vibrant, eye-catching colours.
Dental Elite can help: Stand E26
As concerns mount over recruitment issues and impaired growth of dental businesses, assistance from a specialist agency with dental experience is more vital than ever.
Dental Elite has many years collective experience across the team, and with a customer rating of 4.8 out of 5 it is one of the professions' most trusted recruitment, sales and acquisitions, valuations and finance agencies.
"I would definitely recommend Dental Elite to others and would certainly give them a call if I ever needed to find another job in the future," says associate Justin George.
If you are experiencing recruitment issues, looking for a new role, or want to sell or buy a practice visit Dental Elite on stand E26 at the BDIA Dental Showcase 2018.
Eschmann's newest Little Sister: Stand M10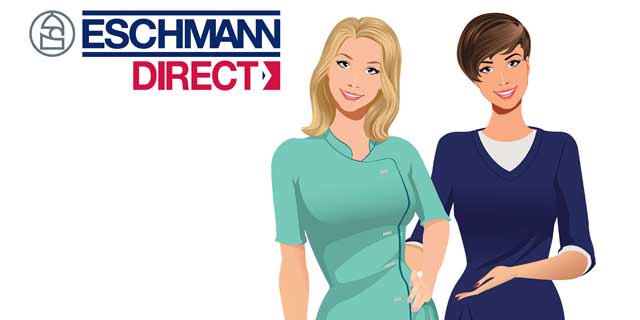 Eschmann will be unveiling a brand-new Little Sister steriliser that builds on the technology of market leading products such as the SES3000B and SES 2010. It represents the next generation of decontamination equipment.
The state-of-the-art solution will be available alongside Lifetime Breakdown Warranty, Care&Cover Protection, complimentary training and more for complete peace of mind and compliance.
PROPACS: Stand D20
PROPACS from PRO Diagnostics UK seamlessly and quickly manages your diagnostic imaging workflow, it automatically stores a copy of your diagnostic image library within the UK.
The system also has a unique dental radiology reporting service. In just 24 hours, your radiographs could be analysed by dedicated dental radiology specialists, saving you time and ensuring that you have all the necessary information you need to create an effective care plan for your patient.
Spoilt for choice by W&H on Stand I22
Industry-leading manufacturer W&H is excited to be exhibiting the latest clinical solutions including the advanced Osstell Beacon handheld device, which identifies when an implant is ready for loading, thereby improving osseointegration.
You can explore how the intuitive Implantmed can enable you to assume utmost control of surgical implant procedures, thanks to the unit's automatic thread cutter function and customisable W&H Osstell ISQ module, discover the Assistina TWIN handpiece care and maintenance unit and explore the user-friendly Lisa type B vacuum sterilizer, featuring Eco Dry technology that adapts the drying time to the mass of each load.
Go to stand I22 to see an exciting catalogue of high-quality dental technology, that also includes the Piezomed unit and the award-winning Synea Vision range of powerful handpieces.
Waterpik Water Flossing technology: Stand H6
The Waterpik® Whitening Water Flosser makes it easy to clean hard to reach areas between the teeth and below the gum line. It features an improved grip pressure control and handle hose swivel to help patients to remove debris and harmful bacteria that toothbrushes and traditional floss leave behind.
This hi-tech model also has an advanced pressure control system with 10 settings as well as a specially engineered handle that infuses patented whitening technology into the water. Waterpik Whitening Tablets effectively remove stains and polish away stubborn marks but are as gentle as regular toothpaste.
Wisdom: Stand N40
Wisdom Clean Between Rubber Interdental Brushes are clinically proven to reduce gingival disease, these are the No. 1 selling rubber interdental brushes in the UK. The wire and latex-free solutions feature flexible, tapered brush heads and micro-fine rubber filaments that glide smoothly between the teeth for a gentle yet effective clean.
Also on display at Showcase will be the Wisdom Clean Between Easy Slide Tensioning Flossers, with a new Waveform Tension Control System that ensures the tape remains taut so as to slide effortlessly between the teeth. The silk-like tape is shred resistant and gentle on the soft tissue, thereby maximising patient comfort.
See Nuview on Stand L25
Nuview will be exhibiting a range of Carl Zeiss solutions, including the EyeMag Pro and EyeMag Smart loupes and EXTARO® 300 dental microscope, giving visitors the chance to try before they buy. To complete the experience, the team will be providing expert advice, demonstrations and loupes fitting and measuring over the course of the three-day event.
Those interested in switching to non-alcohol disinfection and cleaning products should take a look at Nuview's very own water-based Continu range.
GC innovations on Stand J50
For the lab: GC's Initial LiSi Press pressable ceramic combines strength with exceptional aesthetics. Faster to process, optimised for use with Initial LiSi veneering ceramic and Lustre Pastes, and leaving virtually no reaction layer using LiSi spray, it makes laboratories more productive.
Initial LiSi Press is a high strength lithium disilicate ingot with High Density Micronization (HDM) Technology. This proprietary new technology provides unsurpassed physical properties while delivering the most aesthetic pressed ceramic option on the market.
Developed in close co-operation with top dental technicians, GRADIA® PLUS is a modular composite system for indirect restorations which sets new standards in lifelike mixing and layering of shades.
For the surgery: Strong as a rock, G-aenial Universal Injectable (above) is GC's new easy to use composite restorative material. Easy to dispense with just a fingertip, G-aenial Universal Injectable has a unique thixotropic viscosity which is optimised for free-hand build-up of cusps without slumping. This means shorter finishing steps are required, saving time because the anatomy is already created.
GC will also be exhibiting the Aadva IOS (Intra Oral Scanner), which revolutionises digital impression taking technology because it enables time-saving impression taking without retakes, and the D-Light Pro, which offers a unique Detection Mode to enable easy identification of residue composite around cavity margins – making it an ideal adjunct to minimally invasive cavity preparation.
DMG on Stand Q8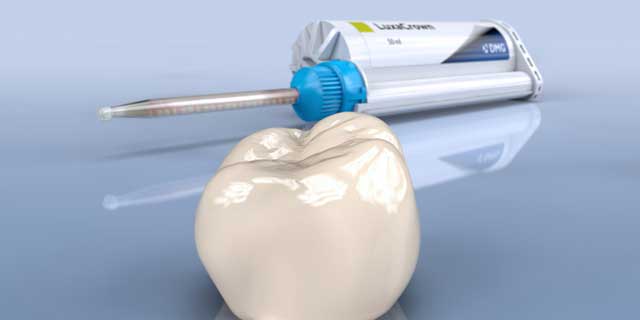 DMG will be exhibiting its LuxaCrown (above) and TempoCemID as well as Icon, LuxaCore Z and many other innovations. LuxaCrown enables simple, quick and cost-effective chairside fabrication of long-lasting crowns. The result is a precision-fit, aesthetic and long-lasting restoration which can be worn for up to five years.
DMG will showcase its recently launched TempoCemID, a translucent, dual-cure composite luting cement for temporary luting of all kinds of temporary restorations. Invisible, but detectable it can be used for temporary and semi-permanent luting of temporary crowns, bridges, inlays and onlays; and temporary luting of temporary veneers. It is also ideal for luting implant-borne restorations.
DMG will also be sponsoring Linda Greenwall's Seminar on Friday 5th October between 12.30 and 13.25. Entitled "Current concepts in minimally invasive aesthetic dentistry 2018" the Seminar will involve information on tooth whitening and resin infiltration to remove visible white spots in the aesthetic zone.
For more information about BDIA Dental Showcase and to book your free pass visit https://www.dentalshowcase.com/