What is possible and impossible in digital dentistry? Dentology demonstrates
On 29 and 30 January 2021, "Dentology – powered by Henry Schein" provided a live online event exploring the digitalisation of dentistry, followed by four weeks of access to on-demand visitors.
The first of Henry Schein´s fully virtual symposium debuted by offering comprehensive insights into the fast-changing world of digital dentistry. A panel of 14 internationally renowned speakers delivered cutting-edge educational content on topics ranging from the digital workflow, digital implantology and orthodontics, to the identification of digital pathology.
Subjects such as how best to start with digital, how to make the most of the intraoral scanner, and how to use digitalisation for customer communication are just the tip of the Dentology iceberg, which engaged its audience with insights into the world of digital dentistry and beyond. After the presentations, participants and experts continued the conversation with live discussions and Q and A sessions.
Keynote speakers included Prof. Dr Irena Sailer from Switzerland (click HERE for the Dental Review in-depth article) and Dr Simon Chard (UK). During their lectures, they explained the impact that digitalisation has had on dentistry and gave an outlook on the future of digitalisation in dentistry as well as covering future possibilities in patient communication using social media.
In addition, 12 experts from eight countries shared their expertise with the participants. Prof. Dr Guillermo Pradiés, Professor and Head of Complutense at the University of Madrid (UCM) asked: What is predictable, possible and impossible in today's digital dentistry?
He explored the digital workflow in cutting edge dentistry and posited that while AI will prove a valuable adjunct to dental practice, it cannot replace the skills and experience of the clinician.
Prof. Pradiés explained: "Integrating all the digital scanning technologies will provide the optimum outcome – including Jaw Track Motion for functional occlusion, intraoral scans for soft tissue, CBCT scans for hard tissue and algorithmic AI to guide the treatment plan."
He concluded: "While the learning curve for dental restoration still exists, digital technology helps make the outcome more predictable in any number of indications from clear aligner orthodontics to reconstructive surgery. AI can help guide aligner use remotely during this time of social distancing, in the same way that smart toothbrushes can inform users when they are brushing correctly."
Other speakers included Wouter Reybrouck (Belgium), Dr Jacques Vermeulen and Dr Christian Moussally (France), Dr Ole Schmitt and Dr Andreas Kurbad (Germany), Stefano Negrini and Dr Mauro Fazioni (Italy), and Dr Ferran Llansana (Spain), Prof. Dr Daniël Wismeijer (The Netherlands), Dr Ian Buckle (UK) and Dr Katya Archambault (USA).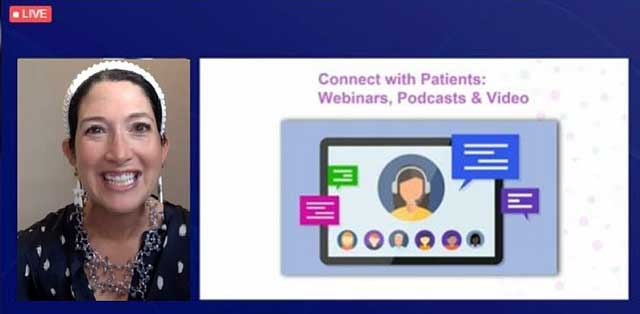 Dentology's Special Guest was Randi Zuckerberg, daughter of the dentist, Edward Zuckerberg, and former director of market development and spokesperson for Facebook, a company her brother Marc co-founded.
She was named as one of the "50 Digital Power Players" by Hollywood Reporter. Her lively presentation was peppered with anecdotes about her stellar career and successes, providing informative input about such topics as business optimisation and efficiency in practice.
The final item on the agenda to conclude the two-day event was a live and lively panel discussion (top) led by Dr Simon Chard who was joined by Prof. Dr Markus Blatz, Professor of Restorative Dentistry and Dr Kyle Stanley, voted among the Top Ten Young Educators in Dentistry by the Seattle Study Club.
Away from the speakers the smart technology powering the 3D walkable Dentology world meant participants could tour its exhibition area to gether expert information about some of the latest innovations from leading dental manufacturers and Henry Schein's business partners.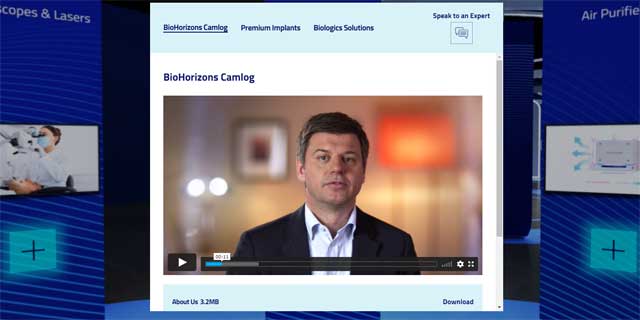 Virtual exhibition booths provided opportunities for participants to discuss their clinical, digital, and business needs with Henry Schein's local specialist teams, such as Biohorizons Camlog, in real time, receiving immediate answers to their questions regarding the ways innovations could best be implemented into their individual daily practice workflows, and what tailored digital solutions might best be integrated with their existing systems.*
Willem Kortland, Vice President of Marketing of Henry Schein's EMEA Dental Distribution Group, added: "A big thank you to all the participants, who joined us at our first Dentology Symposium; to our fantastic speakers, as well as to Team Schein for organising this cutting-edge event that underlined Henry Schein's expertise in digital dentistry and for demonstrating that our customers really can Rely on Us.
"Based on the positive feedback from the participants, our expert speakers, as well as our specialist team at the exhibition stands, Dentology 2021 kicked off really successfully. All keynote, breakout sessions and, the panel discussion are available in English on-demand in the Dentology world until 27th February 2021."
Dental professionals who did not have the chance to join the live event can still purchase an on-demand only ticket by visiting www.dentology.world. Access remains open until 27 February 2021. The exhibition area can also be visited on-demand to discover the range of digital solutions offered by Henry Schein.
* Available for participants from EMEA countries with Henry Schein affiliates and operations