3M's John Rafelt: "Success Simplied, changing perspectives, choosing simplicity"
Dentistry is a protean industry. We are living in an age of constant innovation, in which dental professionals can select treatment pathways, products and technology that best suit their working style. But, is there too much choice? The most expensive or novel product may sound appealing, but if it takes up a huge amount of time or lacks flexibility is it the best option?
Will the treatment meet modern expectations? Patients are no longer willing to accept the old-fashioned concept of unnecessary, heavily invasive restorative dentistry. They expect something which is more comfortable, faster, and yet still offers effective, long-term outcomes. Is this something you reflect in your surgery?
You're probably heard it before but it's worth reiterating the benefits of providing minimally invasive (MI) treatments for you and your patients:
• By preserving the maximum amount of natural tooth structure, the restoration has more stability, greater longevity and causes minimal patient discomfort.
• Patients will be happier with treatments that not only leave their mouths looking healthier and feeling natural, but which is also pain-free.
• A happy patient is more likely to recommend your practice to friends and family. A happy mouth means word of mouth.
But, how do you choose the right products for an MI approach?
Simplicity from the start
The dental market is flooded with restorative solutions. When selecting any specific product, it's important to consider how simple it is to use. In restorative work this is particularly relevant, because you need to balance simplicity against effectiveness. For example, as you know, flowable composites require precise, controlled placement to achieve an optimum, bubble-free outcome.
Solutions which meet this need with fewer steps and little to no fuss, not only streamline workflows but also enhance the patient experience. Simple, yet effective, treatment solutions also help lighten the pressure on the practitioner. Complex cases don't always require complex solutions; consider choosing products that hold simplicity at their core.
But at what price? Products must not only need to be affordable from a practice perspective, but also for your patients' pockets. If the cost of any treatment exceeds what patients are willing – or able – to pay, then they could cause your practice more harm than good.
By offering effective, affordable care, it's more likely that patients will bring in more business through recommendations. Everyone likes to receive good quality treatment at an affordable price, so, it's about finding that sweet spot that ensures affordability without compromising quality.
Success Simplified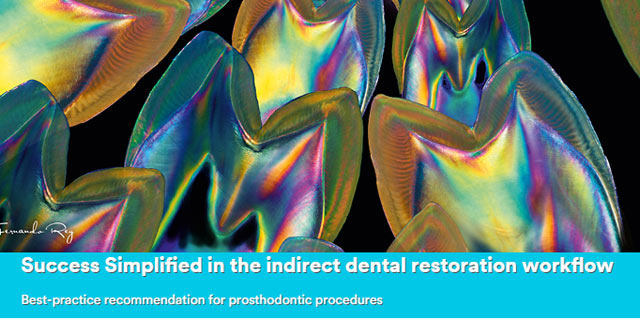 So, bearing these factors in mind, what can you do to ensure restorative dentistry is optimised? 3M Oral Care has devised a set of guidelines called Success Simplified that help practitioners choose products that champion ease of use, cost-effectiveness and an MI approach.
They cover every stage in the restorative journey from impression taking to cementation and more, offering a comprehensive insight into the ways practitioners can simplify their product offering and treatments while still achieving excellent results that patients will love.
Dentistry is always going to be a fast-paced industry full of innovation. But, by carefully selecting products that offer simplicity and cost-effectiveness, without cutting corners on quality, you can meet the needs of modern patient care.
To find out more, visit the "Success Simplified" webpage where you can also download a free booklet containing all of the information you require.
Go to https://www.3m.co.uk/3M/en_GB/dental-uk/procedures/success-simplified/
Author:
John Rafelt gained his PhD in Chemistry in 1999 at York University, and joined 3M Espe in 2002. He is currently Scientific Affairs Manager for 3M Oral Care UK and Ireland. He lectures widely on developments in dental materials and is a regular contributor to the dental press.