Want to be more efficient in the dental surgery? Look at your stock and consider SoloCem from COLTENE
"Efficient" might be a buzz word in dentistry, used to promote the equipment, tools and materials that enable the delivery of treatment in less time, but efficiency isn't just about what you are saving, but what you aren't wasting.
For a dental practice to function well as a business, it must ensure it is using all its resources efficiently, including the skills of its team and other physical resources, such as stock. The delivery of high-quality treatment also needs your everyday processes and workflows to be efficient, which inspires patent confidence in your service and supports loyalty and compliance.
Time-saving materials must offer actual value and multi-function products must be genuinely multi-functional – a good example is using one cement for both luting options. SoloCem™ from COLTENE (top) is a self-adhesive cement that is now multi-use.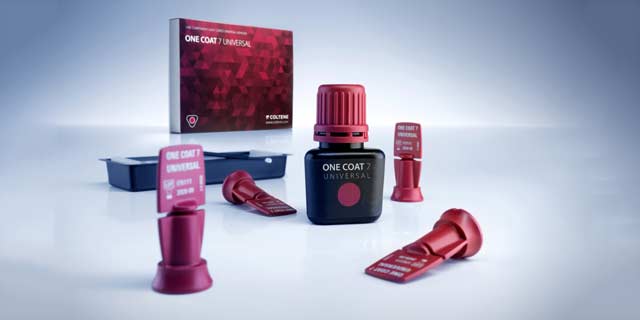 It can be used on its own, or boosted with our One Coat 7 Universal, a light-cured product that can be used for all self-etch, selective etch or total-etch techniques. That's just two products for all indications, and they can be used separately or together, for unbeatable bond strength on enamel or dentine.
As a result, you need less stock for faster, more efficient treatments and stable, strong results, whichalso means more time to spend with your patients, savings on space and reduced need to purchase additional products.
Efficient dentistry is simple, stripped-back dentistry; cutting out the superfluous and prioritising anything that actively improves the patient experience. Patients want a professional service, good value and excellent results. SoloCam and One Coat 7 Universal tick all these boxes with no compromise on restoration outcomes.
Becoming a more efficient practice does not mean making radical changes, or spending money on new systems. It means looking at what you have, and making it work better, so less time, money and talent is wasted. The COLTENE portfolio of products can help practices maximise – and optimise – the time that every patient gets to spend with the dentist.
The right materials will not just enable you to finish treatment quicker, but will also enable you to use those extra minutes to improve relationships between you and each patient, with no time wasted.
Author:
Nicolas Coomber is the COLTENE National Account & Marketing Manager.
For more information about the COLTENE portfolio, visit www.coltene.com email This email address is being protected from spambots. You need JavaScript enabled to view it. or call 0800 254 5115.