Henry's Angels team up with Santa for seriously ill children
Henry Schein Team Members across the United Kingdom and Ireland brought smiles to the faces of seriously ill children during the holiday season
Henry's Angels, a group of volunteers from Henry Schein UK and Ireland, raised funds during dress-down days and team raffles to buy gifts for seriously ill children who spent Christmas in hospital. The Cardiff team accompanied Santa Claus during his walk around the ward at the University Hospital of Wales while he was handing out gifts and spending a few minutes with each child.
Henry's Angels from Gillingham visited the Penguin Ward at Medway Maritime Hospital and spent time with infants and teenagers. The Irish team supported the Ronald McDonald House, an initiative that provides accommodation and a caring and supportive environment for families whose children are seriously ill and hospitalised – or undergoing medical treatment at the Dublin-based Our Lady's Children's Hospital, Crumlin®, Ireland's largest paediatric hospital.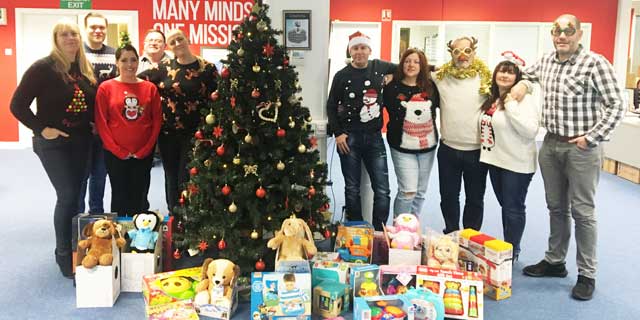 "We were honoured to be included in each hospital's activities to help make these children and their families smile in such difficult times," said Ellie Nightingale, one of the founding members of Henry's Angels. "It is great to be part of a team that – with such amazing enthusiasm – gives back to the local community, lifting the spirits of those who need the most help."

Henry's Angels was formed in January 2011 by Team Schein Members who wanted to put together a lasting programme of volunteers wishing to give back to the local community. The teams are in four locations in the UK and one in Ireland; and have organised more than 40 projects that have seen over 400 volunteers working more than 4,000 hours.
The Angels support at least four projects each year and have already received tremendous support from local companies, hotels, and services. They believe time to be the most valuable commodity they can provide – and together they can make a big difference.
Henry's Angels is part of Henry Schein Cares, the global corporate social responsibility programme of Henry Schein, Inc, and can be followed on Facebook at https://www.facebook.com/hshenrysangels.
Photo captions:
(Top) Santa Claus and a little patient from University Hospital of Wales
(In Text) Henry Schein Ireland's TSMs providing donated Christmas gifts for sick children in Our Lady's children's Hospital in Dublin (l-r Jenny McGrath, Vincent Shine, Justine Wade, John Rice, Ciara Kelly, Stephen Sheridan, Maureen Hamilton, Jim Way, Geraldine Hudson, Paul Shortall)