Invisalign system and iTero intraoral scanners to be rolled out across Bupa network
Align Technology and Bupa Dental Care have announced a new agreement, which will increase the offer of the Invisalign system and iTero intraoral scanners across Bupa's network of dental practices in the UK & Ireland.
With immediate effect the new contract will also see Align provide dedicated education and training programmes for Bupa`s network of dentists and orthodontists. With over 470 practices across the UK and Ireland, as well as ambitious growth plans, Bupa Dental Care is one of the market's biggest dental providers, carrying out over six million appointments each year.
Align Technology is a global medical device company focused on the design and manufacture of the Invisalign clear aligner system. It produces more than 380,000 unique aligner parts per day, each one digitally designed to gradually straighten a patient's teeth.
Simon Beard, Align Technology Senior Vice President, Managing Director EMEA, explains: "I strongly believe our cooperation with Bupa Dental Care will help Invisalign trained dentists and orthodontists to fully leverage our clear aligner and scanning technology, as well as give their patients a truly immersive digital experience, which includes a visualisation of their dentition using iTero intraoral scanner, ensuring more effective chairside communication.
"Scanning the patient during the visit plays an important part in their treatment education and decision-making process, helping them understand their proposed treatment, allowing them to see a simulation of their projected treatment outcome, and truly enhancing their patient experience.
"Just as importantly, thanks to our iTero Element scanners, the doctors can scan every patient at every visit and visualise treatment options together that result in more informed decisions for optimum oral care."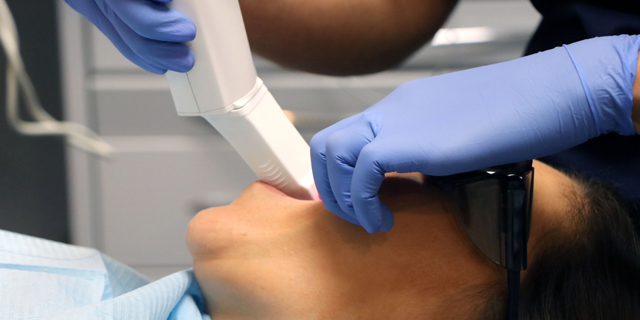 Gabriela Pueyo, General Manager for Bupa Dental Care, said: "The Bupa name is synonymous with quality, and so this agreement was a natural move to offer patients the best in orthodontic dentistry. We're also focused on developing digital dentistry to improve our patient experience.
"This collaboration is a key aspect of this strategy, giving patients access to less invasive, more comfortable treatments that allow them to see the results they can expect before even beginning their treatment.
"It's not just patients who will see the benefits. In addition to rolling out the latest technology for our dentists and clinicians, we've agreed on a bespoke training package that will help them optimise the use of chair time in practice."
Simon Beard continued: "Bupa's commitment to patients and clinicians alike is commendable, and ultimately creates a seamless experience with great outcomes.
"The company's commitment to innovation is demonstrated by expanding its digital footprint and its recognition that iTero element scanners can bring about more efficient and effective orthodontic and restorative dentistry, along with an exceptional experience for their patients.
"Healthcare is becoming more digital, and, at Align Technology we are proud to be driving this transition in orthodontics and restorative dentistry. Today's dental patients are motivated by convenience, efficiency and positive experiences. We feel strongly that this investment by Bupa Dental Care will enable its dentists to deliver precision outcomes and the best possible care to their patients."
For more information visit www.invisalign.co.uk and www.bupadentalcare.co.uk.