Dental Review looks back at BSDHT activity in 2018 post OHC
OHC 2018 "exceeds expectations"
The BSDHT reported that the Oral Health Conference and Exhibition (OHC) 2018 was yet another "resounding success" this year.
A spokesperson said, "Thousands of dental hygienists and dental therapists flocked to Telford to make the most of the first-class education and networking opportunities presented, with each earning hours of CPD and advancing their skills.
"There were also plenty of chances to network with friends and colleagues between the busy trade floor and the evening dinner and dance, where delegates donned their finest clothing to celebrate the profession and have fun.
"With too many highlights to mention, there really was something for everyone at OHC 2018. Thank you to everyone who made it such a huge success."
Anna Seymour wins BSDHT National Student of Year 2018 award
Anna Seymour accepted the BSDHT National Student of Year 2018 award sponsored by Optident.
Anna was recognised for her outstanding undergraduate project and her passion for giving back to the profession, despite being very early on in her career. During the presentation at the Oral Health Conference and Exhibition (OHC) 2018, Anna said:
"The nomination for Student of the Year has come as a complete shock and I am very honoured to be receiving this award." She went on to thank everyone that had supported, encouraged and guided her over her three years at University of Portsmouth Dental Academy.
BSDHT Poster Competition Winners Announced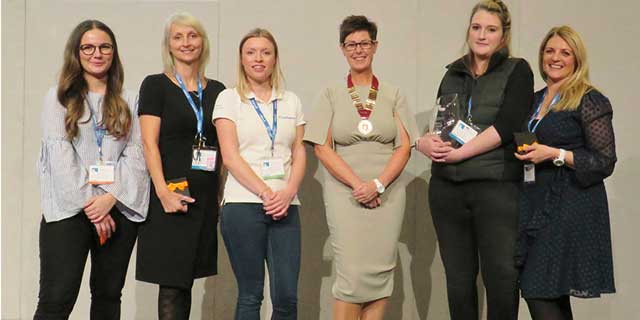 The Poster Competition at the BSDHT Oral Health Conference and Exhibition 2018 (OHC 2018) recognised the wealth of knowledge and commitment that dental hygienists and dental therapists have to offer the profession.
Sponsored by Waterpik and judged by respected panel of professionals, the winners were announced as follows:
· First - Anna Walker and Karen Walker from The Campbell Clinic, Nottingham
· Second - Rhiannon Jones, Clinical Lecturer from Cardiff University
· The Student Prize was awarded to Abigail Turner from the University of Leeds
Fighting for your rights
In a statement the BSDHT set out its stall for 2019, and its intention to fight for its members' rights:
Dedicated to its members, BSDHT offers an array of benefits for professionals to utilise.
These include keeping members up-to-date with the very latest regulatory information, as well as offering advice on everything from compliance issues to clinical procedures and Direct Access. The organisation also provides an invaluable source of support with more than 3,500 dental hygienists and dental therapists already part of the community.
In its mission to represent the profession and address challenges faced in daily practice, the BSDHT teamed up with the British Association of Dental Therapists (BADT) to apply for prescribing exemptions.
The existing system prevents dental hygienists and therapists from delivering the efficient care their patients need, so the BSDHT and BADT are working hard to introduce exemptions that will make a huge difference to professionals and patients alike.
The BSDHT is proud to be the voice of the profession and to fight for change where change is needed. With various advantages available to all members, find out how joining could benefit you today!
For more information about the BSDHT or its exemptions for prescription –only medicines campaign, please visit www.bsdht.org.uk,
email This email address is being protected from spambots. You need JavaScript enabled to view it. or call 01788 575050