Dental Review talks with Fitting Leadership founder Jamie Morley
Jamie Morley has 20-years-experience as a leader, including 10-years working in a countrywide management role. He has tasted business at a corporate level and been involved with Invisalign – Align Technology – during its meteoric rise to prominence in the orthodontic field. He has a master's degree in coaching, and a core belief in the positive processes of change that complements his work experience.
He understands the human element of the dental profession and recognises the debilitating loneliness that can impact the person working chairside or in the lab. Through Fitting Leadership Jamie offers a service to the entire profession that can help provide a more positive environment for the dental team through coaching, online support, dietary advice, and fitness counselling.
Why are his coaching skills needed, and what special qualities does he bring to the table? He explained: "There is a general lack of awareness throughout the profession regarding the simple yet fundamental changes in any team's leadership model that can rejuvenate and energise the work environment leading to improved productivity and greater job satisfaction.
"I'm not talking about swamping people with hackneyed techniques and catch phrases, but about working with them to discover the unique changes that work best within the group of people in question. What good qualities should be reinforced and what behaviour might benefit from modification? And maybe we start with that all-important work/life balance."
Genuine Need
The stark indicators of genuine need are staggering. According to a British Dental Association survey carried out in 2015, 60.8% of GDPs had either Very High (41.4%) or High (19.4%) levels of anxiety, while 43.5% of the same group had either Very Low (23.3%) or Low (20.2%) levels of happiness [1].
Jamie continued: "Problems often arise due to a number of factors. This is not a criticism, nor is it about apportioning blame. It is more important to recognise areas of the team that might need support and others that need a greater sense of direction. It is also about considering yourself. Are you looking after yourself?"
Research has demonstrated that 87.2% of GDPs have indicated at least one form of musculoskeletal complaint in a single year [2]. The dental profession is stressful and physically demanding. How might that negatively impact productivity?
Jamie looked thoughtful. "It can prove very damaging, not just to the individual but also to the practice as a whole. I'm talking about underperformance across the team. Low fitness leads to low energy levels, lack of focus, lack of clear thinking and more mistakes. Patients recognise an environment suffering from a low quality of life and will seek to avoid it. Who can blame them?"
Where does Fitting Leadership come in? "The answer is in the name," said Jamie. "Fitting, start by looking after yourself. You have to ensure you get some physical and mental 'me' time. Is it selfish to look after yourself? No. Put simply if you can't look after yourself how can you look after anyone else?
"It is also about fitting the leadership style to the team, and that requires a dispassionate eye. Any team member might have their own agenda that could derail the development process. A fresh eye that only has the team's best interests at heart can help discover any blind spots in the team's leadership style and navigate the best path towards an optimum outcome."
The Team is About More Than Dentistry
Jamie posited: "Every team needs a leader, and that leader might be passionate and driven towards perfection. But they will also need to engage their team and bring them into the fold, recognise strengths and find out where they might want to go in their careers. It helps encourage people to take possession of their roles if you can trust them to do the work well, and be a little less hands-on.
"A happy, successful, productive team is about more than dentistry. Great dentistry is the end product of positive team building and inspired leadership. I'm talking about energising the person, energising the team, and energising the outcomes. Every aspect of a person's lifestyle is brought into play, both in and outside the workplace. Sleep patterns, fitness regimes, diet, everything counts."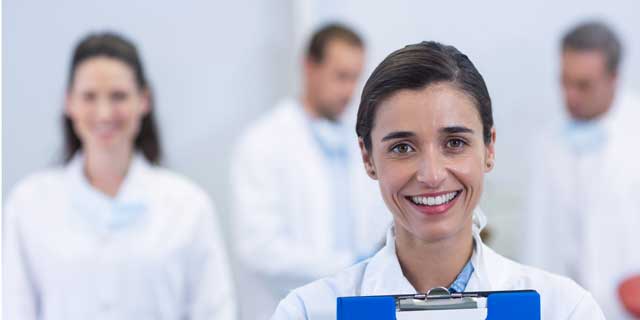 Sleep patterns? "Yes, to be effective we need to manage our energy levels so they're available when we need them. If we don't get enough sleep we can't function properly. The same is true of nutrition. We live in a fast-food culture but do we make the right dietary choices? I provide advice regarding food that is quick but balanced.
My diet app invites people to keep a food diary and offers impartial advice. It outlines the negative effects of certain foods and the positives of others. We're not talking about nutritional tyranny or finger wagging, but about providing intelligent people with a better understanding of the things they eat."
Jamie concluded: "Leadership coaching is about working with people to help give them real clarity around where they want to go and to help them figure out how they can get there. They might not be sure how to get their team behind them and they might need physical and mental guidance. It's about creating awareness and working on any blindspots whilst recognising and reinforcing positives to make them even better.
"Everyone has a different interpretation about what they take away from the coaching experience. Think of them as fishermen who all use different types of lure, what they catch is individual to them. But the main question they need answered is 'What's bugging you the most and what can we do about it?'. My answer is to reveal what works best for them as individuals in the long-term.
"My role is to create self-awareness, without which you cannot improve. I help people become true to themselves and have a clearer vision about whoever they are leading, and about the impact they have on the people around them. Finally, I want to analyse and improve the lives of leaders – show them how to look after themselves and lead their team in a sustainable way."
For more information, visit www.fittingleadership.co.uk, call 07702 274426, or email This email address is being protected from spambots. You need JavaScript enabled to view it.
References:
1] British Dental Association Feb 2015 Kemp & Edwards. Is there a well-being gap among UK dentists?
2] Alexopoulos EC, Stathi IC,Charizani F. Prev of musculoskeletal disord. in dentists. BMC Musculoscelet Disord. 2004;5:16