Invisalign/iTero UK Forum – Playologist Ken Hughes on the consumer experience
Self-confessed playologist and behaviouralist Ken Hughes advised his audience during the Invisalign/iTero UK Forum in London: "Consumers are like water; they will always find a way to whatever they want." If that way leads them away from you, you have lost a customer. Dental Review explores his ideas.
We live in a time of disruptive technology in which consumers respond to change when they see it as relevant. Businesses are crashing as a result. For example, camera specialist Jessops has recently gone into administration because more people take photographs with their smartphones than a camera. High street shops re disappearing because more customers make their purchases online.
Technology is driving consumer evolution in many ways, and one of the most subtle is the rise and rise of social media. People are spending an average of 24 hours a week swiping at the screens of their phones and mobile devices. They are immersed in the worlds of Instagram, Snapchat, Twitter and Facebook. What are they doing? Sharing experiences.
What they are saying to each other will define the future of business. We are moving away from a culture of possession gathering, to a culture of experience sharing, and those experiences are shared on social media as avidly as a flu virus on a commuter train in winter. If your customers aren't talking about you, you don't exist. You have lost your connection to your consumer.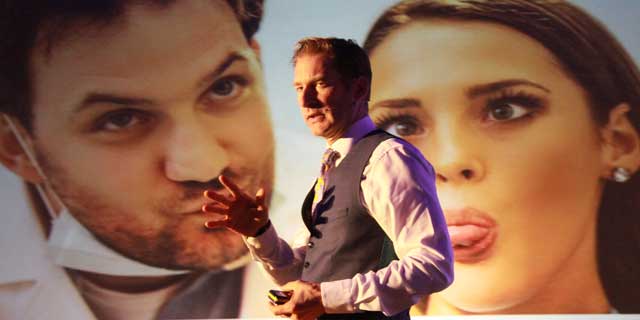 Invisalign and Align Technology have one primary aim, to communicate the fact that a better, brighter smile is available to the 'selfie' generation through unobtrusive orthodontics. The innovative SmileView app means that a person can use their mobile technology to see how their new smile might look in less than a minute. The Invisalign process itself has become much faster.
Hughes posits that success happens when a provider creates technology that works – important point there – and meets a need. Hearing this we are reminded of one of the speakers during Align Technology's first Growth Summit in Copenhagen during September 2018.
Assume less – discover more
Working on the theme "Tomorrow belongs to those who can hear it coming" notable futurist and influencer, Gerd Leonhard, considered the ways technological change will eventually impact biology, primarily via the rise of genome editing and artificial intelligence.
Gerd, who rates among the top 100 influential speakers cited by Wired magazine, predicted that "humanity would change more in the next 20 years than the previous 300." Specifically focusing on dentistry, he foresaw a world in which patients would talk with a virtual dentist to begin the treatment journey and big data analytics would pave the way for precision medicine.
He advised: "Assume less, discover more and reinvent your business." According to Gerd, the future is all about creating "unbeatable patient experiences". Hughes agrees: "Experience blends the physical world with the digital one, call it phygital." He warns that today's consumer expects the world to revolve around them – they don't go to what they want, it comes to them.
We believe the human element will, in fact, remain a constant in dentistry. Align Technology predicts something slightly different to Gerd. It believes that AI cannot replace the dentist, but dentists who use AI will leave those who do not behind.
This means that communication remains key to consumer gratification, but, he asks, how can you move your business into your consumers' social community? Answer, by getting them to talk about you. What additional value can you bring to your practice that creates a story worth telling? By offering brand love; bring your brand to life in an authentic way, make a visit to the dentist a positive event.
Personalisation points the way
There is a toaster out there that burns a selfie of the owner onto every slice of bread. We're sure that particular experience will soon become pretty uninspiring, but providing a better, more beautiful smile to brighten that slice of toast will never pall. Where is the added value for your practice? How about increased physical confidence? A straighter smile on social media? Yes please.
The SmileView app uses the consumer's own face to approximate how that new smile might look, and it can be shared on social media for instant experiential gratification. The latest ClinCheck Pro software can also place an even better approximation of the new smile into the patient's own mouth in a shareable fashion. That will get you talked about.
Hughes concluded: "You are giving your patient a straighter smile. Are you giving them a reason to use it?" By emotionally engaging your patient in their journey towards a more beautiful smile, you will make them feel special – that way your story will be told.
Discover more about Ken Hughes by visiting www.kenhughes.info/blog
For more information about the Invisalign system, visit www.invisalign.co.uk