The Triathlete Dentist faces "Everest Wales": His biggest challenge yet?
I attempt to mix being a full-time dentist, full-time Dad and full-time husband, while trying to be a triathlete in any spare minutes. Over the last few years, I have taken on some big challenges in a quest to see if I can discover where my physical and mental limits lie.
I haven't found it yet but in 2021 I will take on a quest so stupidly hard that I may well find myself chewed up and unceremoniously spat out. On April 9th I will attempt to run up The Kymin, a big hill which overlooks my hometown of Monmouth. I will run that hill thirty-seven times, which is the equivalent of climbing Mount Everest.
Everesting, as it is known, has been completed by 6900 cyclists but only 322 runners at the time of writing. To complete an Everesting on foot the athlete is required to run up a hill, using the same route and without sleeping, until they have completed enough repetitions to have climbed the 29029 feet (8848m) of Everest's summit.
In order to save the knees, it is acceptable to either cycle or get a lift back down the hill only running the uphill sections. So, I hear you ask, why do something so monumentally stupid? Well, clearly I enjoy a challenge to focus on and inspire me to train hard but I want to use this event (and the lead up to it) to raise a whole heap of cash for a cause which is very close to my heart.
The charity is Prostate Cancer UK and the reason for supporting them is that my Dad was diagnosed with the advanced disease a year and a half ago. As a family, hearing that news was devastating and since then we have all felt like we have had a good kicking at certain times. Don't get me wrong, there have, thankfully, been lots of good times, but there is always the thought that another low point is just around the corner.
Prostate cancer is the most commonly diagnosed cancer in the UK with one in eight men being diagnosed during their lifetime. As Dad has it, my risk has become an unsettling 1 in 3. In the UK a man dies every 45 minutes as a result of prostate cancer, which means that during my estimated finishing time of just over 24 hours, 33 men will have died from the disease.
As well as raising as much money as possible, I would like to try and spread the word and raise awareness of this disease and the things that we men should be looking out for. Early diagnosis is key in treating prostate cancer and if can make more people aware of what to look out for and what to do to ensure they stay healthy, then all of the pain and suffering which I will push through in April will be worth it!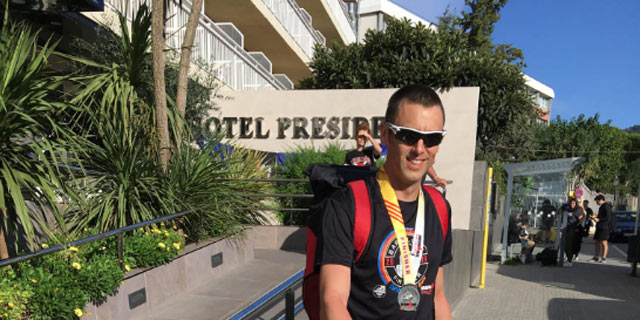 The views from The Kymin on a clear day are spectacular with the Monmouthshire and Herefordshire countryside stretching out before you. On a clear day, the Black Mountains are clearly visible in the distance. In order to get through this challenge, I will need support from as many people as I can get, whether its running friends who would like to join me for as many or as few ascents as they are able or just well-wishers who fancy taking in the fantastic views and cheering me on!
In order to help spread the word, please take a moment to like our Facebook page and if you're able to click through to our fundraising page and chuck a few quid in the bucket, then that would be gratefully accepted and help to provide a huge amount of motivation as I pound the roads, both on the day and for the many hours of training that I will have to put in through the dark, wet and cold winter months. Thank you
To follow the Triathlete Dentist and donate to his cause, visit the Facebook page https://www.facebook.com/WelshEverest or go to https://www.gofundme.com/f/h8uae-prostate-cancer-uk