Dr Shervin Molayem addresses the challenge of neglected chronic disease care during COVID-19
COVID-19 has changed the lives of most people on the planet, even more so for those individuals who live with chronic diseases. Some illnesses compromise the immune system, increasing the risk for severe COVID-19-related respiratory complications.
For many living with a chronic health condition, lockdown measures restricted medical attention and access to medication. Lack of appropriate disease management can lead to complication and further increase the risk for severe COVID-19.
Hence, a wave of challenges resulting from underlying health conditions is expected, fuelled by the consequences of the pandemic. These include postponed medical care, poor disease management, mental health challenges, and lifestyle changes.
This dangerous situation requires the urgent collaboration of different healthcare providers to identify potential solutions and avoid further strain on healthcare systems. The most common chronic diseases that increase risk for severe COVID-19 are listed below:
• Diabetes
• Heart disease and hypertension
• Chronic lung, liver or kidney disease
• Cancer
• Periodontitis
• Sleep apnoea
Reallocation of healthcare resources to COVID-19
Most healthcare systems have faced major challenges during the pandemic. A problem faced by high-risk groups has been the reallocation of healthcare resources to the treatment of COVID-19 patients, which has limited routine care for patients living with chronic diseases.


In a survey study (Chudasama et al. 2020), healthcare professionals reported that patients with diabetes, cardiovascular disease, and chronic lung diseases have had major disruption in their regular care. These patients likely depend on frequent check-ups to keep risk factors under control. Limited hospital care for non-COVID-19-related conditions, delayed appointments, medication shortages, and lack of monitoring can lead to poor health status that can translate into progression of the disease, higher morbidity, and mortality.
In addition, social isolation, fear of COVID-19, and general stress have greatly affected the mental health of those who have chronic conditions. Hence, continuity of care is key for these patients and should continue despite the temporary shortage of resources caused by the pandemic.
Reduced standard of chronic care during the pandemic
During the pandemic, changes to diet, medication, and lifestyle for patients with diabetes can directly affect glycaemia, increasing the risk for complications, and the burden of the disease for the individual and the healthcare system. COVID-19 can also disrupt glucose metabolism, potentially causing hyperglycaemic crisis.
For patients with cardiovascular conditions, changes to disease management can become catastrophic and lead to hypertensive emergencies, thrombosis, ischaemic complications, and ultimately heart failure. Severe COVID-19 can cause immunothrombosis in the lungs, further complicating the clinical situation.
A study from Italy confirmed that the number of fatal heart attacks nearly tripled during lockdown given the limited access to hospital settings. (Consentino et al. 2020) Similarly, chronic kidney disease, chronic lung diseases, and cancer patients require attention from different medical specialists. Lack of appropriate medical care can result in increased morbidity and mortality, which is further increased by COVID-19 infection.
The wave of neglected oral conditions and how it can affect COVID-19
In dentistry, neglected routine care has been a reality with the initial closure of dental practices, followed by slow re-opening and patient resistance to dental visits due to fear of transmission. It seems logical to assume that, with reduced access to dental care, the prevalence and severity of oral diseases have likely increased.
The consequences of periodontitis for COVID-19 have been reported in the study by Marouf et al. (2021). In this case-control study of 568 COVID-19 patients, after adjustment for confounders, periodontitis was associated with an 8.8 times higher risk for complications and death.
Recently a medical hypothesis based on radiographic findings from COVID-19 patients suggested that periodontitis can facilitate the passage of COVID-19 viruses through the gums, to the general blood circulation, and peripheral lung vessels, being a potential risk factor for severe lung complications. (Lloyd-Jones et al. 2021)
Severe sleep apnoea is another oral condition that has been linked to increased risk for COVID-19 and higher mortality rates. (Shi et al. 2021, Mansour & Knauert 2021)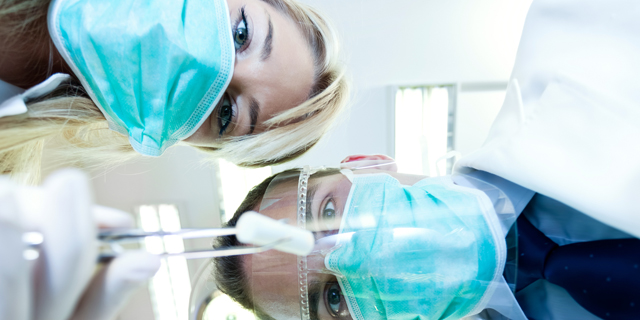 Given the impact of oral conditions such as periodontitis and obstructive sleep apnoea on the entire body, and the higher risk for COVID-19 complications and death linked to these conditions, addressing oral conditions is crucial for general health.
Maintaining oral health may help prevent severe COVID-19 and should be taken even more seriously in patients with chronic diseases.
Basic recommendation for patients who present chronic illnesses during the pandemic:
• Consult your healthcare provider if you have any concerns.
• Do not skip or change your chronic medication, and ensure that you have enough medication for at least one or two weeks.
• Maintain optimal oral health by practicing good daily oral hygiene and having regular dental check-ups.
• Try to stay active, reduce stress and maintain good mental health.
• Keep a healthy lifestyle, avoid smoking and alcohol abuse.
• Even if you have been vaccinated, maintain preventive measures, such as washing hands frequently, using hand sanitizer, wearing a mask when in public places, and practicing social distancing.
• Monitor your health, be aware of initial COVID-19 symptoms. If you suspect COVID-19 infection and become symptomatic, please contact your healthcare provider immediately.
Patients with chronic illness constitute a vulnerable group in our society. Not only do they have to face the high risk for infection and severe COVID-19, but they also face challenges related to access to healthcare.
The standard of care for many of these patients has been lowered during the last year and a half. Now is the time to fully address their medical needs to reduce the negative impact of the pandemic on their health before the consequences become too severe.
While the crisis in the health sector is a sad reality in many countries, telehealth could become an ally in the public and private sectors. Access to primary healthcare including medical and dental care should be highly prioritized, particularly for this patient group.
Author:
Dr Shervin Molayem received his Bachelor of Arts in History from UCLA and his Doctor of Dental Surgery Degree at the UCLA School of Dentistry. Thereafter, Dr. Molayem completed a three-year specialty programme in periodontics at the Herman Ostrow USC School of Dentistry. He is the Founder of both the UCLA and USC Journals of Dental Research which have been published for 14 and 12 years, respectively.
He has lectured and published in the field of dental implants, periodontics, and oral-systemic connection. He is the co-founder of Pair Dental (formerly Synergy Specialists), the largest agency for travelling dental specialists. Dr Molayem has been practicing periodontics in a private practice setting in Southern California for more than 11 years.
More recently, he has been conducting research and has published the most comprehensive connection to date between the mouth and COVID-19 in the Journal of the California Dental Association, as well as his latest research entitled 'The COVID-19 Pathway', which potentially could have a huge impact on further understanding this deadly virus and reduce COVID severity.
References:
Chudasama YV, Gillies CL, Zaccardi F, et al. Impact of COVID-19 on routine care for chronic diseases: A global survey of views from healthcare professionals. Diabetes Metab Syndr. 2020;14(5):965-967. doi:10.1016/j.dsx.2020.06.042
Lim MA, et al. A wave of non-communicable diseases following the COVID-19 pandemic. Diabetes Metab Syndr. 2020;14(5):979-980. doi:10.1016/j.dsx.2020.06.050
Mansour W, Knauert M, 681 Sleep Apnea Severity and COVID-19 Hospitalization Outcomes: Interim Analysis, Sleep, Volume 44, Issue Supplement_2, May 2021, Page A266. https://doi.org/10.1093/sleep/zsab072.679
Shi J et al. Impact of Obstructive Sleep Apnea and Positive Airway Pressure Therapy on COVID-19 Outcomes. A118 Poster presented at the American Thoracic Society 2021 meeting. https://conference.thoracic.org/program/abstract-search.php?sid=P7492
Cosentino N, Assanelli E, Merlino L et al. An in-hospital pathway for acute coronary syndrome patients during the COVID19 outbreak: initial experience under real-world suboptimal conditions. Can J Cardiol. 2020 https://doi.org/10.1016/j.cjca.2020.04.011
Marouf N, et al. Association between periodontitis and severity of COVID‐19 infection: A case–control study. Journal of clinical periodontology. 2021 Apr 1;48(4):483-91. https://doi.org/10.1111/jcpe.13435
Lloyd-Jones G, Molayem S, Pontes CC, Chapple I. The COVID-19 pathway: A proposed oral-vascular-pulmonary route of SARS-CoV-2 infection and the importance of oral healthcare measures. J Oral Med Dent Res. 2021;2(1):S1.