What is that food label telling you? A Dental Review exclusive #WFNFEvents
During the recent – and snappily titled – Westminster Food & Nutrition Forum policy conference regarding the future of food labelling in the UK – safety and standards, the future outlook across the supply chain, and priorities for trade and the environment, Dental Review watched and listened with interest.
We know that manufacturers and food processing plants have been accused of deluging our shelves with high fat, salt and sugar (HFSS) products that are labelled 'no added sugar', 'all natural', and 'free-from', luring the unwary into indulging in a waistline-busting diet that rots their teeth. Don't we see what's on the label?
And yet the speakers explained that food labelling has recently risen up the agenda, driven by increasingly aware and informed consumers. But is that really the case? Later we learned that 60% of consumers take no notice of labelling as they roll their trolleys around the aisles on their weekly shop, and ever more complex contents listings will turn those of us who do examine them off reading them altogether.
So, if we raise our eyes above the tooth decay/obesity/type 2 diabetes parapet, why should we care what is on the label? Because it could be a matter of life or death. Allergen labelling has become essential since Natasha's Law came into effect in 2019. Named after Natasha Ednan-Laperouse who, at the age of 15, passed away due to a severe allergic reaction to sesame seeds baked into a Pret a Manger baguette, the idea is to protect people like her from unforeseen fatalities.
Yet those 'free from' labels are also disguising HFSS products that might not contain gluten but have been laced with tasty salts and sugars to make them more palatable, a fact buried in the small print. People suffering from food allergies have to eat these foods to survive, and it was made very clear that allergies are not the same as food intolerance or Coeliac disease, people die from intolerences.
Type 1 diabetics need to see a clear listing of sugars and carbohydrates, but very often this information can be difficult to find – or a previously healthy product has increased its sugar content without warning. Sliced bread is a known suspect here.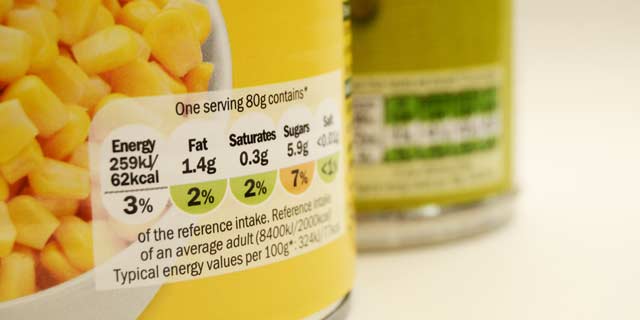 There is to date no clear definition of 'vegan', but the freezer units are piled high with confusingly labelled vegan sausages, burgers, pies, chicken and more. What we are meant to make of this escapes me. Surely these processed foods can have little to do with the vegan practice of abstaining from the use of animal products? What in the world is vegan 'cheese' doing on the shelves?
Soon any food outlet such as a cafe or restaurant that employs more than 250 staff must clearly label the calory content of its goods. Clear labelling of sugars in infant foods will also come into force. All of this is great news, until you learn that there is no current requirement for ecommerce supplementary nutritional labelling at the point of sale. Yep, despite the growth of online food shopping there is no need to tell you what your groceries contain when you click that virtual basket.
Food labelling legislation is currently devolved across the four UK nations, but government has recognised the need for consistent nutritional labelling. Animal welfare being a case in point. Then surely if consistent animal welfare labelling is made mandatory in the UK, the same must be required of all overseas foods coming into our shops and online? Chlorine washed chicken anyone?
Food production and transport has an immense impact on our carbon footprint, but what has the largest effect? Is it the out-of-season asparagus spears from Peru or the sirloin steak from Hereford? It's not on the label but the answer is those pesky asparagus spears. They travel fridge class on the airlines more often than celebrities fly to attend carbon protests.
There is talk about comprehensive labelling using QR codes, but experts worry that information clearly available on the label might vanish into the little square of black and white squiggles that most people have neither the time, the inclination, nor in some cases the technology, to read. Think again we say, put it where we can see it.
In conclusion we ask for clarity of labelling. If not the golden holy grail of omni-labelling through which every label tells the same nutritional and animal welfare story in the same way, then at least give us enough honest information to make an intelligent informed choice. How many spoonfuls of sugar, how many spoonfuls of salt, how many calories in a bottle of wine? Is that too much to ask?
Bon appetit!