Dentaid "delighted" to be shortlisted for Charity Awards 2022
A spokesperson for Dentaid said: "We are delighted to announce that we have made the shortlist for this year's Charity Awards, the longest-running and most prestigious awards scheme in the charity sector."
The dental charity, based near Southampton, has been shortlisted in the healthcare and medical research category for its mobile dental clinics for people experiencing homelessness which provide access to dental care and oral health programmes for some of the most vulnerable people in our community.
Dentaid's UK programme has grown rapidly since the pandemic and this year the charity's four mobile dental units will help thousands of people experiencing homelessness out of dental pain, with the help of hundreds of volunteer dental professionals.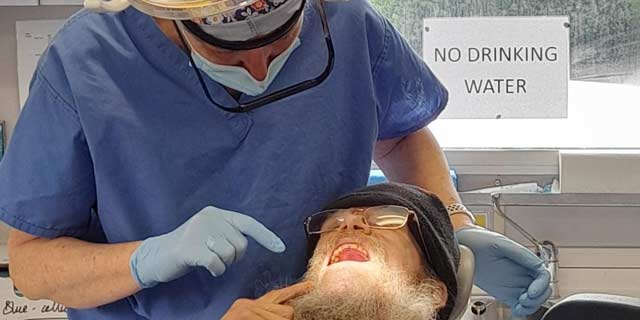 The Charity Awards, which announces its shortlist today (11th May), is the charity world's longest-running, biggest and best-known awards ceremony. This year's charities have been judged by an independent panel of charity leaders as having demonstrated outstanding best practice from which other organisations can learn.

The ten category winners, plus the recipients of the Overall Award for Excellence and the Daniel Phelan Award for Outstanding Achievement, will be announced at a black-tie dinner on 16th June, held at the Royal Lancaster Hotel in London.
Matthew Nolan, chief executive of Civil Society Media, which organises the Charity Awards, congratulated Dentaid on making the highly-coveted shortlist.
He said: "The breadth and quality of the work being done by charities across the UK continues to astonish. Dentaid should be very proud to have made the shortlist.
"For 22 years the Charity Awards have been identifying and celebrating the fantastic work that UK charities do. Our rigorous judging process highlights those charities with the most innovative ideas and the most effective approaches to delivering real change.
"All the nominees on this year's shortlist are examples of large and small charities who are truly leaders in their field. I wish Dentaid the very best of luck on the night."
Andy Evans, Dentaid CEO, added: "It's a great honour to be shortlisted for the Charity Awards and this is recognition of all the hard work we have invested in helping people experiencing homelessness to access dental care. We wouldn't be here without our amazing volunteers and supporters and we're truly grateful to everyone who's been part of Dentaid's journey over the last 26 years."