Eschmann highlights Dallas-based Nomad Dental – Mobile service for accessible care
The idea behind mobile dentistry is nothing new. Historically, dentists would visit patients in their homes to provide treatment to those who needed it most. However, as time went by and dentistry became more accessible to the masses, dental practices became the norm. Today you're much more likely to book an appointment and make the journey to the practice if you require dental care.
Unless you live in Dallas, Texas, where Nomad Dental brings back the service of old. This mobile dental practice travels around the downtown area, servicing four different locations on a bi-monthly rotation schedule, which means they can provide more patients with the dental services they need.
Offering everything from dental x-rays, cleaning, fillings, dentures and more, Nomad Dental provides an all-encompassing service for people who need treatment. Appointments are booked online in advance, meaning those who work in nearby offices can have a check-up during their lunch break then go straight back to work.
So, how did Nomad Dental come about and what are the challenges mobile dentistry can bring? Anna Cowdin, dentist and co-founder of the company explains: "I started Nomad Dental because I didn't want to commit to settling down in one location. After working for a number of years in various dental offices and looking at other mobile dentistry services available I just felt I could follow the concept and do it better.
"Our moveable practice is fully fitted and doesn't require any water or power from the locations we visit. We wanted to make it as appealing as possible to our patients – we didn't want them to feel like they were getting into the back of a van."
Due to the mobility of the service that Nomad Dental provides, it has its fair share of challenges that must be overcome.
"I think the biggest challenge for us is parking. But when it comes to the everyday hurdles we face for being a mobile unit it really all comes down to size and efficiency.
"As we have much less space than a traditional practice we need to ensure that we are on top of every aspect, always know what we need and try to reduce waste where possible. The practice is solar-powered and has its own water supply, so that means we need to be particularly careful not to waste any water or power during the day.
"We also need to make sure that people are aware of our services. Before we go to each location we set up a table in the surrounding office blocks where people can ask us any questions and find out what we do. We do this because people often think that we only offer very simple services because of our size – but this isn't the case."
Nomad Dental is mobile
Because Nomad Dental is mobile it also has to follow different protocols to those imposed on stationary practices by the Texas State Board of Dental Examiners (TSBDE).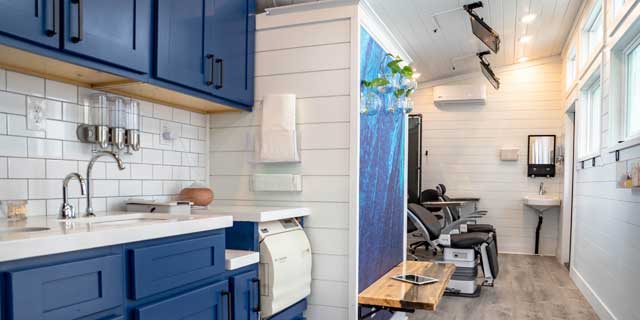 "We have the same regulations in place for biohazard control and sharps, but the TBSDE actually regulates mobile practices and mobile X-rays. This also affects our approach to infection control, as the state needs to know everything we have on board.
"We use both an ultrasonic dental instrument cleaner and an autoclave, and these are both built-in, just as they would be in a regular practice. The main differences for us is that because we move around a lot there's a worry that our autoclave may be damaged in transit, but thankfully we haven't had a problem yet.
"To make sure everything is running smoothly we always come in around half an hour early to check the power supply – and when we move between locations we always pack away the smaller equipment so that it doesn't get jostled about when we're on the road. Setting this back up when we reach a new location gives us the perfect opportunity to perform the necessary checks on all our equipment.
"Being mobile does mean that we have to run the autoclave a lot more though, especially as we have limited space. We autoclave all of our instruments in bags after use and store them in our cabinets. Plus, we need to keep the distilled water on board – meaning we have to monitor these things carefully to keep running at our optimum standards."
Providing people with a mobile alternative to traditional dental practices has its challenges, but practices like Nomad Dental are in the vanguard of transforming the way dental care is delivered. By taking old fashioned values and refreshing them for a 21st century audience, Anna and her team have given downtown Dallas residents a unique alternative to traditional services.
Interviewee:
Anna Cowdin completed a BA in Psychology at Wake Forest University, before attending Roseman University College of Dental Medicine. She is the co-owner and practitioner for Nomad Dental and the founder of Flossy Fix – a quarterly, dentist-curated hygiene box delivered to patients' doors.
Anna was interviewed as part of the Dentistry in 'unusual environments', series sponsored by decontamination specialist Eschmann. For more information about the range of decontamination equipment and products available from EschmannDirect, visit www.eschmann.co.uk or call 01903 753322