Can YOU help Den-Tech set up and run its website?
Den-Tech, a dental charity launched in 2017 and run entirely by unpaid volunteers, has a core mission to help restore the dignity, function and quality of life for dentally challenged and homeless patients.
Den-Tech is the brainchild of dental technicians Andrea Johnson and Andrew Sinclair who after visiting Uganda with a clinically orientated dental charity, realised there was a great need for quality dental technology services in the country and other developing countries like it, as well as working with vulnerable homeless people here in the UK.

However, the charity itself is in need of support, as Andrea explained: "We are really desperately in need of some very kind and generous soul to volunteer their expertise to help set up and run our website. None of our current volunteers have the skills or ability to make the site look as professional as we would like."
Den-Tech's principal aim is to help relieve poverty by the provision of affordable dental appliances to people in need and to provide training, mentoring and education for dental technicians in developing countries to enable them to supply appropriate quality dental appliances.
This is in addition to supporting the ever-increasing numbers of those most needy within our own country – the homeless.
Andrea continued: "There are many charities that provide an incredibly valuable service as 'dental pain clinics' but there is no real provision for the restoration of extracted dentition. This can leave patients with large gaps in their teeth, meaning they often struggle to eat and chew their food well, to speak properly, or even to look and feel normal. Imagine how it feels to be reluctant to smile!
"We are keen to have a website that better reflects the wonderful work our volunteers are doing, and if someone out there has the time and the skills to help us it would be marvellous.
"We are also desperately in need of lab bench motors and hand pieces, so if you, or someone you know, would be willing to donate one or two – or have any that need refurbishing – please, please do let us know."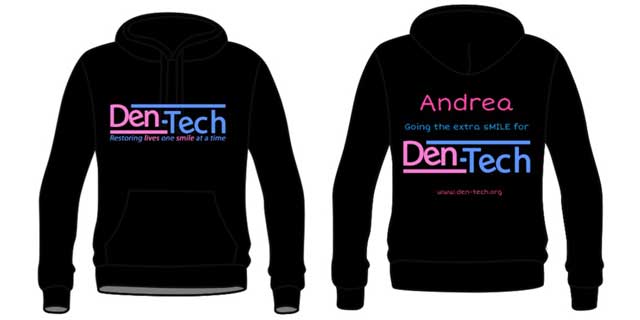 Just this weekend the charity launched its new Den-Tech supporters' hoodies. For a minimum donation of just £35 + pp the stylish apparel will be customised with the supporter's name on the reverse. All profits go directly to the charity so they can continue their work, and the owners can wear their hoodie with pride, knowing they are supporting a worthwhile cause.
Andrea concluded: "To see what we are doing, and what needs to be done, please visit our website, www.den-tech.org, like us on our Facebook page, https://www.facebook.com/Dentech1/# and follow us on Twitter, https://twitter.com/DenTech_charity.
"If you can help us with our website or can supply that desperately needed equipment, please get in touch by email This email address is being protected from spambots. You need JavaScript enabled to view it."