Syntel CEO and President, Nitin Rakesh, outlines the future of digital dentistry and why there are two speeds of practice. A Dental Review exclusive report
Dentistry and healthcare in general are just two of the key areas undergoing a new, digital industrial revolution, according to Syntel's CEO and President, Nitin Rakesh. A global business partner for many blue chip companies, Syntel has smoothed the path to faster, more effective automation processes for manufacturing and service providers. The company's SyntBots automation platform has been profiled by HfS Research, and named as the #1 "Coolest Managed Service Offering" of 2015 by CRN magazine. When it comes to discussing the future of the digital pathway Nitin can claim to be a clear-sighted prophet.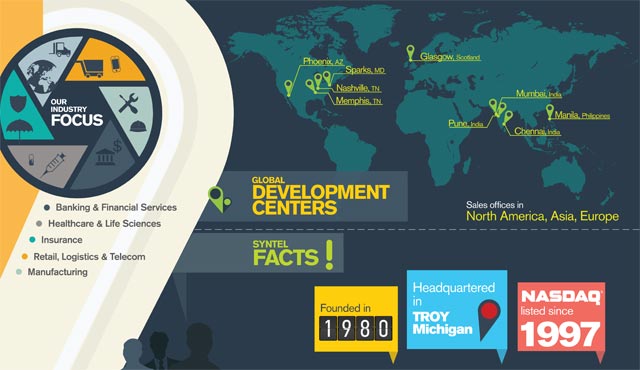 At the heart of his presentation was the pace of development for the modern world's online environment. There has been an exponential growth in mobile traffic and smart manufacturing is trending hard. People have come to expect 24-hour, real-time information and retail communication is now much more activity-centric. Cleverly designed algorithms in retail software used by online outlets such as Amazon can analyse individual shopper activity and make intelligent, specifically tailored suggestions during a purchaser's visit. Whether we're aware of it or not we are all constantly under the digital eye.
How can dentistry benefit from such developments? It can be difficult to overcome what Nitin calls "legacy processes" which are slow and often over-complicated traditional processes. This is what he describes as the "Two Speed" business world, in which he compares the slow, traditional paper files and human activity-based systems with the latest, high speed automated processes. Doing so is much like comparing travel on a bicycle with flying first class in a jet. They both get you where you want to go but the difference in time scale is immense.
Tedious tasks
Modernisation comes at a cost, or does it? Nitin thinks not. Day-to-day logistics of any traditional business are its highest outlay and those costs can be noticeably reduced once automated systems are put in place. In fact they can be "squeezed" in order to find cash for modernisation.
Let's look at a typical example of communication between the practice and a patient. Classic contact involves a filing cabinet, a folder containing patient files, a desk diary and a telephone. Calling the patient will happen during practice hours when most people will be at work. It is a fairly hit-and-miss, time consuming and tedious procedure.
An automated process contains a whole raft of patient information plus the practice diary. The system will send appointment reminders using the patients' preferred communication methods, which might include an automated voicemail, text, email and/or social media. It will also analyse previous patient behaviour in order to recommend specific practice treatments such as tooth whitening, implants or orthodontics in the same way Amazon might offer the latest Disney DVD to an avid collector. The new system is not designed to replace staff but to free them from tedious and mundane tasks, and it will operate 24-hours a day, seven days a week without the need for holidays or sick leave.
Nitin described traditional "back end" processes as being subject to "disruptive" innovations. Any high street is a living demonstration of what happens when a retailer ignores the latest developmental trends and carries on offering the self-same service that has worked for years. Legacy processes can act like sea anchors to drag businesses down thanks to competition from faster, simpler and more flexible online outlets. Successful high street retailers today offer both online and face-to-face services, John Lewis, Sainsbury's and Waterstones are proving to be healthy survivors. BHS, MFI, Comet, Woolworth's and Blockbuster have all succumbed to disruptive innovations such as Amazon and Netflix.
Connectivity
Interconnected products are changing the way insurers and manufacturers relate to drivers. A manufacturer can be constantly up-dated in real time by one of its cars. Diagnostics can indicate when one of the car's components is about to fail, inform the manufacturer and then the owner can be advised his vehicle needs a service before it goes wrong.
Insurers have a different remit. Their device measures and communicates driving activity. Is the driver prone to sharp acceleration, acute cornering or sudden hard braking? Might be time to suggest a refresher driving course or even take another look at the price of that particular person's policy.
In dentistry prevention is a hot topic and very dependent on patients following a relatively simple home hygiene procedure. Brushing twice a day with fluoride toothpaste and interdental cleaning will usually help reduce dental and periodontal disease. Smart brushes that register brushing activity on Bluetooth connected devices have been introduced by manufacturers such as Oral B and Philips. How much longer will it be before those same brushes can be linked directly to a patient's digital records in the practice, and an active analysis of how well they brush becomes available for discussion at the next consultation?
In conclusion, Nitin talked about the many great reasons to bring in automation, but first and foremost he saw it as a part of becoming part of the customer-centric service economy. Speed, flexibility and simplicity are attractive to end-users. If somebody needs to change an appointment or make a new one, they should be able to interactively access the practice's diary online at any time of day. Digital intraoral scanners used to create virtual models of a patient's teeth are faster and more accurate than alginate and won't warp during their transit to the lab because they travel by email. Specially designed marketing software helps move practices up the Google rankings so they become easier to find − and online star ratings inspire confidence. All of this is going on in the background, driven by artfully designed, smart automated platforms. In the foreground people have more time to drive better patient care and perform dentistry.
Nitin closed with a final thought; disruptive change usually comes from left field. He talked about the fact that none of the main insurance companies wanted to insure Google's new "driverless" cars. To overcome this stumbling block Google has launched its own dedicated insurance service. How long, he wondered, will Google keep this service to itself? A new player comes into the insurance market from an unexpected quarter, and that, he said is how disruptive innovation usually happens.

To learn more about Syntel visit www.syntelinc.com
Follow Nitin on Twitter for his thoughts and opinions on the latest tech gadgets @nitinrakesh