Henry Schein's Tom Goldsmith and 3Shape's Laurence Kabba talk to Dental Review about 3Shape TRIOS a unique intraoral scanner and high definition camera
"The UK is lagging behind Europe when it comes to digital dentistry. I'm not interested in which intraoral scanner a dentist buys, but I strongly urge them to take that first step. It is the key investment that will instantly open the door to the full digital dental workflow experience. Purchasing an intraoral scanner now will see a rapid return on investment, help lead towards better dentistry, and provide a superior patient experience. What's holding us back?" Laurence Kabba (top) 3Shape's Country Manager for the UK & Ireland, was talking to me at the Dentistry Show 2017 on the 3Shape stand.
I had sought Laurence out after experiencing a full demonstration of 3Shape's TRIOS© intraoral scanner on the Henry Schein stand, where I had been fired by the evident enthusiasm of Tom Goldsmith (above) Henry Schein's intraoral scanning specialist. Despite the bustle of a very busy show Tom had taken me through the scanner's technology, and demonstrated what was possible on its touch screen monitor. We drew quite a crowd during his talk.
Tom said: "Once the decision has been made it is very easy to understand why dental professionals have chosen to embrace digital technology, but it is best to move step-by-step. Try not to buy all the technology all at once and hope everything will work together properly first time around. Take each stage of the digital journey sensibly. The first investment should be an intraoral scanner, and, in my opinion, the 3Shape TRIOS provides the most complete package with unique added benefits."
What makes TRIOS unique?
But why buy an intraoral scanner in the first place? And what makes TRIOS unique? Tom explained further: "Dentists are still using traditional dental impression trays and materials because that is what they've been taught to do. It's what they're used to and they might be resistant to change or reluctant to part with hard earned money. They accept that patients might find them unpleasant, that the impressions might be inaccurate thanks to mistakes causing drags and deformities, or even get damaged in transit, and that they might get a poor outcome as a result. Patient call-backs, poor restorations, repeat manufacture, wasted valuable time; these are all too often a part of the traditional alginate/silicon impression arena. Intraoral scanning obviates all of the above. It is fast, easier to work with, patients prefer it, it is more precise, more flexible, and cleaner. By law you are now required to store dental study models by for at least two years after treatment is concluded, and some authorities recommend you keep them up to 10 years for legal purposes. Digital models can be stored on a hard drive, which means you don't end up with a storage area full of rotting and eco-unfriendly gypsum models. Instead, your lifelike virtual models are available at the touch of a button, and the latest scan can be compared with the previous one to show the patient any changes that may have occurred since the last visit, which is perfect for fully informed treatment planning and gaining informed consent. Coming soon, 3Shape's TRIOS Patient Monitoring module will make the process even easier.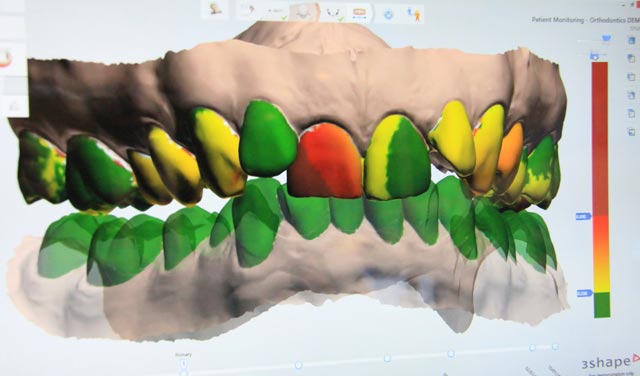 "Put simply, the difference between traditional impression taking and intraoral scanning is the same as that between a horse and cart and the latest hybrid cars. Both will get you where you want to go, but only one will get you there cost-effectively, at speed, and in comfort."
Packs an impressive punch
The TRIOS scanner is now available in an even more user-friendly wireless version, the TRIOS 3, but even with its cable the version on the Henry Schein stand packs an impressive punch. Tom explained that other scanners have a clear screen covering the business end at the tip, but the TRIOS has been designed with an open scanning compartment that makes it more flexible to operate and easier to use. The operator is much less likely to collide with the teeth, especially when scanning the hard to reach posterior region. TRIOS is the only scanner that provides colour natural enough to be used as a Vita shade guide, allowing the technician has the information they need to perfectly match the restoration with its surrounding dentition.
It is the only scanner with a removable, autoclavable head for greater cross contamination control, and it includes a high definition camera which creates images that can be stitched onto the scan to provide the lab with an optimum level of information. If purchased with the dedicated TRIOS Cart, with its multi-touch screen, the scan can be manipulated in 3D at the touch of the operator's fingertips.
On his stand, Laurence enthused: "What is the first, most important thing a dentist needs before they can even begin to put together a treatment plan? Information, precise and correct information. It is commonplace for clinicians to include advanced photography and intraoral images as a key part of this process, but taking the vital component, the impression in a traditional fashion introduces inaccuracies that can compromise results. Clinicians need to be able to explore the patient's mouth in the minutest possible detail and to provide their lab with the maximum level of information. Most importantly they need to do it consistently. TRIOS scans are proven to be the most accurate and can be presented to the patient or sent to the lab in real colour.
"Taking the scans is easy, If I can do it anyone can. To help users ensure they have all the detail they require the TRIOS colour codes sections to help draw attention to areas missed as you learn how to scan. If a vital piece of information is missing, say a contact point on a tooth neighbouring a preparation, it will clearly highlight the area for further review. Another good example, when taking a shade guide reading, if the surrounding dentition needs a longer scan to gather the right amount of information it will show up as dark blue.
"The scanner can register bite, occlusion and, very soon, patient specific motion. Thanks to the TRIOS analysis stage, using colour coding the operator can instantly see where the bite is too high, or where excessive wear might be happening, plus the digital system is able to show undercuts and demonstrate margins in a way traditional impressions couldn't hope to do."
Dental Desktop
He continued: "Dental Desktop is the new home for all of 3shape's software solutions. With our orthodontic, restorative, implant planning and TRIOS software speaking the same language, taking a single case through a multidisciplinary planning process is an exciting reality. Of all our incredible advancements showcased at IDS, Dental Desktop excites me the most. Being able to show a patient a full treatment plan including tooth movements, implants and restorative design gives a new level of clarity to the patient, but most importantly a new level of accuracy to the clinical outcome.
"Thanks to 3Shape's Communicate portal we can ensure that every member of the dental team is talking the same language when dealing with the patient and each other. Sending a case from the TRIOS using 3Shape Communicate, the digital impression can be transferred instantly from chairside in the surgery directly to the lab. Getting immediate feedback on the case from the lab while the patient is still in the chair brings a whole new level of efficiency to the restorative process.
"3Shape Communicate means they will get the impression, the restoration instructions and order form almost instantly and can begin work immediately. They can design, mill and provide a temp for try-out within hours. In addition, thanks to the 3Shape Communicate app, if the lab has an urgent enquiry the dentist can be contacted on their smartphone or tablet, even when they're out of the practice."
Laurence concluded: "Intraoral scanning is faster, there are fewer opportunities for mistakes, and because so much time has been saved you can choose between seeing more patients or spending more time doing the things you enjoy most. Digital dentistry is so much more than an investment in better working practices, it is a lifestyle choice. Patients are happier, dentistry becomes easier and more predictable, and optimum outcomes are more consistent. Come on, what are you waiting for?"
In a future issue we will look at 3Shape's digital software including: 3Shape TRIOS Design Studio, 3Shape Implant Studio, and 3Shape Orthodontics. The 3Shape system uses open digital architecture, which means it will interface seamlessly with any other open technology or software. For more information, visit the Henry Schein local Web site at www.henryschein.co.uk or the corporate Web Site at http://www.henryschein.com. To contact 3Shape direct go to www.3Shape.com or email This email address is being protected from spambots. You need JavaScript enabled to view it.