Planmeca CALM image compensation technology, never miss a shot
Patient movement is the number one contributor to poor image quality. Some patients cannot remain stationary during a 3D x-ray scan—particularly children, individuals with special needs or elderly patients. This leads to re-scans, increased exposure to radiation and potential frustration for you and your patients.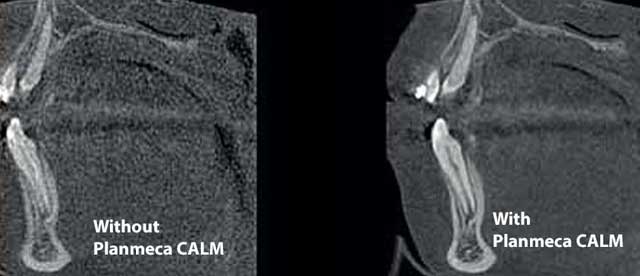 Planmeca CALM™ CBCTs can analyse and compensate for slight movements and provide improved, diagnostic quality images. It's one shot and done for you and your patients. And that's something that helps keep everyone calm.
For all 3D units, volumes and voxel sizes
Planmeca CALM is available as an additional software update for all Planmeca 3D imaging units. It adds under 30 seconds to the overall reconstruction time and can be used with all volume and voxel sizes. It can be applied after the scan is complete, but also before exposure to ensure that the volumes are already corrected when they are accessed in the Planmeca Romexis® imaging software.
Planmeca CALM offers many advantages for dental imaging. The feature is particularly beneficial when imaging restless or livelier patients, however, the algorithm can add value to any image by improving its quality.
But what do its users say?
"Planmeca's CALM feature has been great. As an orthodontist we have a young patient population that does not always stay still. We love being able to take ultralow dose CBCT's on our patients to determine treatment plans, especially with the radiation being less than a 2D panoramic radiograph.
"In the past we would sometimes have a problem with patients moving and then the CBCT would be unreadable, since we have had the CALM feature, we have not needed to retake any CBCTs, which is great for us and for our patients."
Dr Zachton Lowe, Simons and Lowe Orthodontics, Shoreline, WA, USA
"Planmeca CALM has not only reduced the number of retakes in my office but also improved the image quality of virtually every scan by eliminating minor patient movement. This feature has proven to be a solid technological innovation that provides a great benefit to those imaging younger patients or, for that matter, in any situation where movement might be an issue.
"Now my patients benefit not only from the Planmeca Ultra Low Dose technology but also from a reduction in the number of retakes and movement artifacts. There also seems to be an overall improvement in image quality as a result of this feature.
"Kudos to Planmeca for their innovative CALM technology."
Dr Jay Burton, Smilemaker Orthodontics, Nashville TN, USA
Planmeca CALM cancels the effects caused by patient movement and allows clinicians to succeed every time.
To discover more, contact Planmeca. Go to

https://www.planmeca.com/imaging/3d-imaging/planmeca-calm/
Freephone 0800 5200 330 or email This email address is being protected from spambots. You need JavaScript enabled to view it.
#digitaldentistry #CBCT