LM Arte: Simplifying toolkits for an ergonomic workflow
Author Steve Brown is Director of Sales and Marketing at J&S Davis Ltd
For all dental practices, ergonomics and streamlined workflows are important. Simplifying processes and creating an organised environment contribute to increased productivity and time saving, while an efficient workplace and using ergonomic equipment will help prevent pain, stress, and strain. Streamlining workflows in practice, you will not only improve the experience of the dental team, but also shorten appointment times and thus increase revenue.
When it comes to the layout of a dentist's work space, it's important to focus on ergonomics. For streamlined workflows, dental equipment and instruments should be placed in optimal locations around the workstation, appropriate for their designated purpose.
Not only will this make workflows more efficient, but this will also minimise the need to over-reach for items, straining the muscles, because required instruments are located nearby. Maintaining an effectively organised workspace will also be of assistance should you look into investing in new technology.
Poorly designed workspaces can lead to musculoskeletal disorders (MSDs) include a range of inflammatory and degenerative conditions affecting muscles, tendons, and nerves. Those suffering may experience pain and functional impairment which commonly affect areas such as the neck, upper and lower back, shoulders, elbows, wrists, and hands.
It has been suggested that MSDs are one of the most common reasons for early retirement among dentists – with a high prevalence of pain among dentists commonly affecting the back and neck. Symptoms can be unpleasant, with early signs including decreased strength, pain, swelling, and numbness – and others include fatigue in the shoulders and neck as well as weak hand grip and hypersensitivity in the hands and fingers.
When bad posture is sustained over a long period of time, blood flow (and therefore oxygen) to the muscles can be restricted – this has the potential to cause the spine to become misaligned. It is important to select appropriate instruments to help combat the effects of MSDs.
When it comes to hands, constantly flexing and extending the hand and wrist without appropriate rest may lead to mechanical stress. Encourage the use of ergonomically designed instruments in your practice to help reduce the need for excessive force and strain on your hand muscles.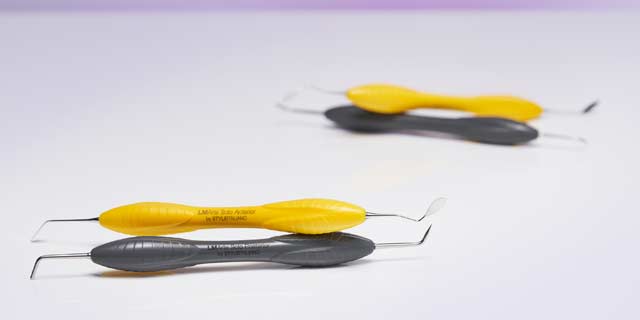 By simplifying your toolkit and focusing on quality, versatile equipment for straightforward organisation, you can streamline your workflows more easily. LM Arte offers a comprehensive range of instruments to cover all of your complex restorative needs, with ergonomic designs optimised for user comfort and ease of use.
The LM Arte range is available from J&S Davis and includes the LM Arte SOLO, the instrument duo designed to produce excellent results in both anterior and posterior composite restorations. The anterior tool features both a sharp and rounded tip allowing you to complete everything from precision modelling, to cervical contouring.
The posterior instrument features both a flat and sharp end. Its design enables you to access deep cavities as well as execute precision modelling.
By investing in quality versatile instruments for use across a range of indications you are able to optimise organisation in practice and simplify workflows. Remember to keep your day-to-day instruments close by for maximum efficiency, and reduce the risk of stress and strain on your body.
For more information, visit www.js-davis.co.uk, call 01438 747 344 or email This email address is being protected from spambots. You need JavaScript enabled to view it..