Implantologist Simon Nocton has been working with Straumann technology for 20 years, Dental Review reports
Dr Simon Nocton works at The Dental Surgery in London's Corn Exchange, an area still haunted by the ghost of Samuel Pepys. It is a multi-disciplinary practice with 15 surgeries and is believed to be the oldest dental practice in town after celebrating 26 years in the city this November.
Simon is an experienced implantologist who describes himself as a: "50-something dentist who thinks it's great to be doing dentistry at this time of change – change brings challenges, and to meet those challenges we need expert support."
For the last 20 years he has been working with digital technology and support from Straumann, which, he said, was a tiny company in the UK when he first met it, but that they had grown and evolved together ever since. To demonstrate how the digital workflow has changed the face of implantology, and dentistry in general, Simon invited Dental Review into his surgery to see how the latest intraoral scanning technology and design software has taken the guesswork out of implant planning and placing.
For example, thanks to a combination of intraoral scanning using 3Shape TRIOS alongside 3D x-ray imaging using CBCT he can ask his team to design a stent that guides him to precisely place an implant to within 2mm or less from the mandibular mental nerve. Severing or damaging the nerve would lead to facial paralysis similar to that seen in stroke victims, and fear of such an outcome would likely have seen him refuse the treatment in earlier days. He still proceeds with caution, but he places with confidence.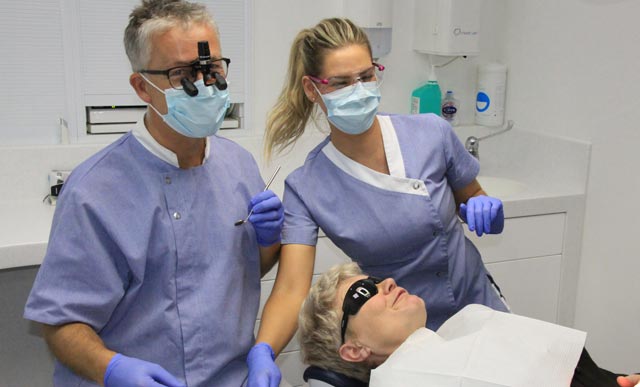 Intraoral scanning is less messy and unpleasant for his patients, and a lot simpler. His nurse, Sarah, is a skilled operative who enjoys the added responsibility of using the scanner and spending more time with patients, while Simon can concentrate on deciphering the CBCT scan. In dentistry, he says, it can be too easy to divorce oneself from the way patients feel about the treatment. Digital visualisation enables a real flow of communication between clinician and patient; it clarifies the treatment plan and facilitates gaining consent. "In other words," he said. "When people can clearly see what you plan to do they understand it more easily."
In an aside Simon opined that too many people believe digital workflow is about doing dentistry more cheaply to earn greater profits. Such is not the case, it is about treating patients better and providing more predictable and successful outcomes more reliably. He cited an example he had been told about by his lab technician: which involved 3D printed models digitally produced in resin as opposed to plaster or stone. Imagine you are manufacturing a crown and you are placing it on the traditional model and then taking it off to check for fit. How many times will that crown be placed and removed? How much wear will that cause, and what will that do to the model's accuracy? With resin there is no wear, and accuracy remains sharp throughout the manufacturing process.
Sounds like success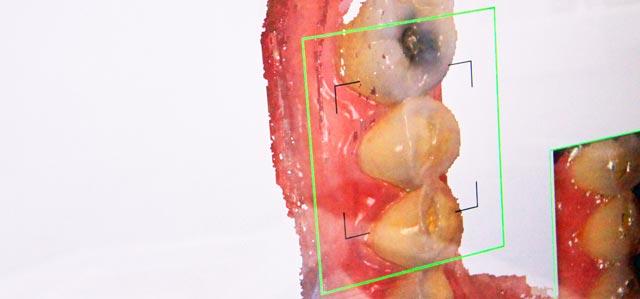 For the full digital workflow of scan – design – mill there is no model needed, everything happens virtually until the final restoration, manufactured precisely to the patient's dentition, is milled from the block and then placed. Simon is wary about asking his lab to create a four-unit restoration without a model to compare it against, but his wariness has proved unfounded to date.
While Simon scanned his patient the machine ticked like a Geiger counter. That told him he was capturing useful data. When the machine falls silent, he demonstrated, it is not collecting enough information. It tells you when you are doing the job right.

Unlike some systems the 3Shape TRIOS scanner is a powder-free device and oral moisture is not a problem. It also provides an exact shade analysis of the patient's dentition that can be used by the lab to create a shade matched restoration. For general dentistry it is important to precisely map the margins and soft tissue, and for that Simon recommends retraction.
Scanning is about detail, he explained, rush through the job and you will miss important details. Once you have your scan you can then ask the patient to bite and take a digital occlusion. Once the occlusion has been successfully captured the machine plays a pleasant harp sound, which Simon loves.
"Listen to that," he said. "It sounds like success. Don't you wish you got that sound every time you did something perfectly?"
Simon told us that the latest Straumann single implant allows placement of the crown directly onto the implant without an abutment, making it more like natural dentition. Fewer elements mean fewer chances for failure. The restoration is then designed using 3Shape Implant Studio software.
Simon explains: "10 years ago this would have been considered science fiction, but this is the face of dentistry today. The planning process can even be saved as a PDF in the patient's file and might prove useful in a clinico-legal case should one arrive, because it demonstrates every stage of the planning procedure. With implantology it is not enough for the work to be nearly accurate, it has to be really accurate. Nothing else will do."
Simon outlined how the digital workflow helps him manage patient expectation by showing what can be designed and how the finished outcome will look. It is not right, he said, to take risks with your patient for financial gain. They should be treated as if they were a member of the family. Digital imaging allows dentists to involve patients in the treatment planning by clarifying and educating them about every step of the process. He then explained how he can even digitally share the case with other specialists if he sees challenges he might need advice about.
"I plan all my cases digitally because it is better," he concluded. "We can improve on the base level of what we do thanks to this technology, which means I am always working to the best of my ability and that provides huge job satisfaction.
"But the end result is a patient who has been provided with a safe, reliable, durable and predictable implant that is functional and aesthetically pleasing. What better outcome could we ask for?"
For more information about Straumann UK click HERE.