Planmeca Romexis software: virtual implant planning and surgical guide design made simple
The Planmeca Romexis® 3D software provides two submodules specifically geared towards implantology – one for virtual implant planning and one for designing surgical guides. Both are simple add-ons to the Romexis 3D module and help perfect your fully digital implant workflow.
The software includes an implant library with realistic implant models from over 90 manufacturers. Finding the optimal position for an implant is easy with the software's implant-centric viewing mode. Romexis alerts users if an implant is placed too close to segmented neighbouring teeth, the mandible canal or another implant.
A tool for evaluating the quality of the bone around an implant is also available.
Working from a single platform
Romexis software has been designed for prosthetic-driven implant planning. It allows users to bring together all the relevant data into a single platform: acquire CBCT images; scan surfaces; design virtual crowns; map all previous data, and proceed with their plan.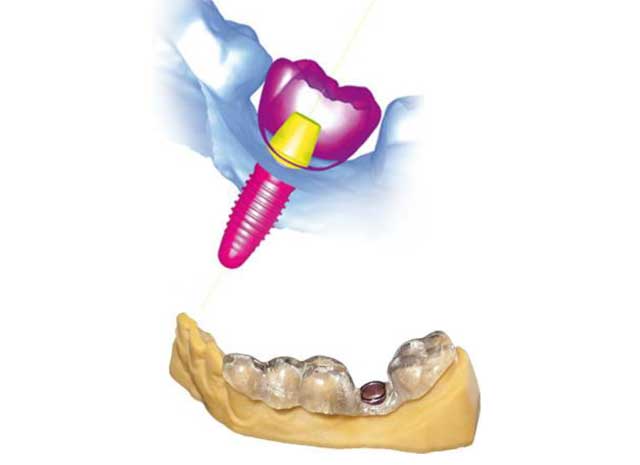 The software also has a generic crown library in case a specifically designed crown is not available. DICOM data and STL files are supported and can be easily imported from third party systems.
Romexis automatically creates a PDF report on an implant plan and designed surgical guide, providing all the information you need for successful surgery. The report includes the model and measurements of the planned implant, the user-guided surgery kit and sleeve type, as well as the drill type – and features clear pictures of implant positions.
The Implant Guide module lets you design surgical guides in a few easy steps. The software automatically designs a guide to the area that has been defined with its simple lasso tool. The guide can be further enhanced by adding support bars, peak windows and embossed text, as well as by deleting any unneeded material.
If a tooth has been removed prior to implant surgery, the software also allows it to be removed digitally – meaning the patient does not need to be scanned again.
Mucosa-supported guides
You can create mucosa-supported guides with one click with the Romexis Implant Guide module. The software automatically detects the inner side of the denture and creates a guide based on it. The software's implant library also includes fixation pins from various manufacturers for users to utilise.
Implant guides designed with the Romexis software can be seamlessly 3D printed. You can utilise the software's pre- programmed setting for the most common 3D printers, or create your own ones to use. Once an implant guide has been designed, Romexis automatically creates an open STL file that can be sent directly to the new Planmeca Creo™ C5 – or any other suitable 3D printer.
With Planmeca Romexis software, implant planning and guide design becomes an easy and economical all-in-one workflow, aiding you towards the best functional and aesthetic outcome.
Contact Planmeca UK to find out more, Freephone 0800 5200 330 email This email address is being protected from spambots. You need JavaScript enabled to view it. or visit https://www.planmeca.com/contact-us/uk-contact-information/
For more information about Romexis software's implant modules visit the website,https://www.planmeca.com/software/software-modules/planmeca-romexis-3d-implantology/

#dentist #digitalimaging #smile #implantplanning