iTero Element 5D NIRI technology adds radiation free caries detection to dental armoury
Align Technology's near infrared imaging (NIRI) technology was developed to aid dental professionals in detection of interproximal caries. Align's award-winning iTero Element 5D imaging system does not emit harmful radiation to capture images, making it possible to scan the internal structure* of patients' teeth in real time.
As well as presenting 3D colour dental imaging features and outcome simulation, the scanner comes fully integrated with technology to aid in the detection and monitoring of interproximal caries lesions above the gingiva, without repeated exposure to harmful radiation.
In a study published in the October 2019 issue of Thyroid magazine, researchers concluded that dental radiographs should only be prescribed when the patient has a specific clinical need and not as a standard part of routine dental evaluation, and that dental professionals should avoid unnecessary screenings.
Due to its radiation-free technology the iTero Element 5D scanner may become the standard for routine monitoring that can help catch lesions earlier, while at the same time avoiding patient exposure to excessive and repetitive radiation. Monitoring interproximal caries during every routine appointment can help ensure lesion progression can be tracked and receive timely care


The iTero Element 5D is the first intraoral scanner to uses near-infrared imaging (NIRI) to scan the internal structure of the teeth, meaning that while dentists may still need to take traditional x-rays, they now have an option to scan patients during every visit for more effective preventive or interceptive treatment.
Dr Mitra Derakhshan, Align Technology vice president, global clinical, advised: "Diagnosing carious lesions or cavities, especially those that are interproximal, can be hampered by numerous factors, including variations in tooth shape and alignment.
"Traditional x-ray film limitations include variability in exposure levels, poor angulations in image capture, overlapping contacts in the image, and more. The iTero Element 5D Imaging System aids in detecting and monitoring the progression of interproximal cavities above the gingiva without harmful radiation, helping ensure that patients receive even better care."
Caries progression assessment
Through the iTero Element 5D's visualisation tools, patients see what the dental professional sees – which not only empowers practitioners to make better informed decisions for the care of their patients, but also helps patients gain a clearer understanding of their oral condition and thus engages them in the care and control of caries through more effective oral hygiene.
According to a recent Align survey, users agree that the imaging and visualisation capabilities of iTero Element 5D are designed to enable better patient education and improved understanding regarding their oral health.**
Caries detection devices that exist as an adjunct to x-ray technology require additional investment. The iTero Element 5D scanner seamlessly combines three key scanning technologies (3D data, intra-oral colour photos and NIR images) into one, single integrated scan, dramatically increasing the efficiency and inter-connectedness of the dentists' workflow.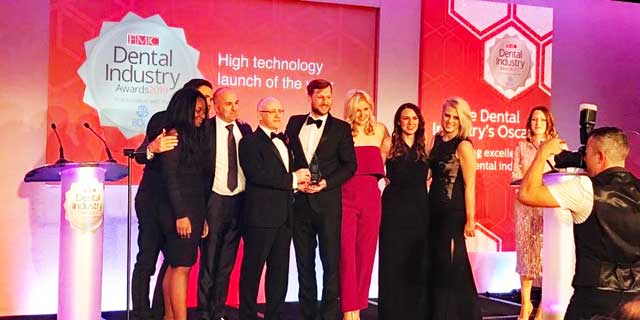 This cutting-edge innovation has led to the iTero Element 5D scanner's presentation for 2019 High Technology Launch of the Year during the UK`s Dental Industry Awards.
For more information, visit www.itero.com, or contact your local iTero representative.
*Enamel and dentine.

**Based on a survey in May of 2019 of n = 15 practitioners who experienced working with iTero element 5D for an average period of 6 months, representing both GPs and Orthodontists in CAN, EMEA and APAC, who were presented with a level of agreement scale from strongly agree to strongly disagree with the following statement: "The Imaging and visualization capabilities of iTero Element 5D scanner are designed to enable better patient education that lead to better patient understanding of their oral health". Data on file at Align Technology, as of November 15, 2019.